Posted: Wed, Feb 20 1:07 PM ET (1807 GMT)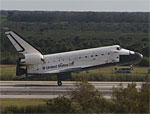 The space shuttle Atlantis completed the STS-122 mission on Wednesday with a successful landing at the Kennedy Space Center in Florida. Atlantis touched down on runway 15 at the Shuttle Landing Facility at KSC at 9:07 am EST (1407 GMT), nearly 13 days after lifting off from KSC. The shuttle and its crew completed its primary mission to install the Columbus laboratory module, the major European contribution to the ISS, and outfit the module for use by the station's crew. The next shuttle mission, STS-123, is scheduled for launch on March 11.
Posted: Mon, Feb 18 8:56 AM ET (1356 GMT)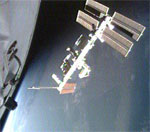 The space shuttle Atlantis undocked from the International Space Station on Monday morning in advance of its return to Earth on Wednesday. The shuttle separated from the station at 4:24 am EST (0924 GMT) and performed a loop around the station before departing its vicinity. Atlantis is scheduled to land at the Kennedy Space Center on Wednesday at 9:07 am EST (1407 GMT), weather permitting; the shuttle will land Wednesday at Edwards Air Force Base in California if weather conditions in Florida are poor. The shuttle is returning to Earth with ISS crew member Dan Tani, who had been on the station since October. His spot on the station was taken by European astronaut Leopold Eyharts, who flew to the station on Atlantis.
Astronauts unconcerned with satellite intercept plans
Posted: Sun, Feb 17 6:03 AM ET (1103 GMT)
Astronauts on board the International Space Station and space shuttle Atlantis said Saturday they are not concerned with US military plans to hit a failed...
Spacewalkers complete final STS-122 EVA
Posted: Sat, Feb 16 6:02 AM ET (1102 GMT)
Two astronauts spent more than seven hours outside the International Space Station on Friday, completing the outfitting of the exterior of the new Columbus lab...
Second STS-122 EVA a success
Posted: Thu, Feb 14 5:43 AM ET (1043 GMT)
Two astronauts, including a German who had reportedly fallen ill earlier in the mission, carried out a successful spacewalk on Wednesday, replacing a nitrogen tank...