Posted: Tue, Jan 29, 2002, 10:35 AM ET (1535 GMT)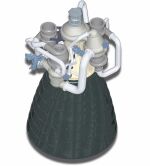 Boeing's Rocketdyne division unveiled the design Monday for its proposed rocket engine for the next generation of reusable launch vehicles. The RS-83 is a liquid hydrogen/liquid oxygen engine designed for 100 missions, twice the design life of the space shuttle main engine (SSME). The engine is also designed to be simpler and easier to maintain, with increased reliability. If the engine design passes a system design review in March Rocketdyne may proceed with the development of a full-scale prototype.
The threat of death and destruction from an asteroid impact may be overstated, according to one researcher. Work by Kevin Pope leads him to believe that an asteroid impact would be far less likely to pump large masses of dust into the atmosphere, blotting out the sun and leading to plant and animal death worldwide. His reanalysis leads him to believe that the odds of dying in an impact are 1-in-100,000, compared to the 1-in-20,000 odds — the same as dying in a plane crash — previously believed.