Posted: Thu, Dec 11 8:34 AM ET (1334 GMT)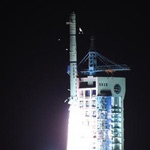 China launched Thursday a remote sensing satellite what Western observers believe to be a trio of naval reconnaissance satellites. The Long March 4C rocket lifted off from the Jiuquan Satellite Launch Center at 2:33 pm EST Wednesday (1933 GMT Wednesday, 3:33 am Beijing time Thursday) and placed the Yaogan-25 satellite into orbit, according to state media. Those reports described Yaogan-25 as a single satellite intended for scientific experiments and civil applications. Western observers believe Yaogan-25 is instead three formation-flying satellites used for naval reconnaissance.
Posted: Tue, Dec 9 7:39 AM ET (1239 GMT)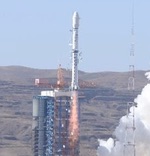 A Long March rocket launched a Chinese-Brazilian remote sensing satellite on Sunday. The Long March 4B rocket lifted off from the Taiyuan Satellite Launch Centre at 10:26 pm EST Saturday (0326 GMT, 11:26 am Beijing time Sunday) and placed the Chinese-Brazilian Earth Resource Satellite 4 (CBERS-4) satellites into a sun-synchronous orbit. The satellite is a joint project of Brazil and China to develop a series of satellites to provide earth imagery for natural resources and other applications. The launch comes a year after another Long March rocket failed to place the CBERS-3 satellite into orbit. The launch was also the 200th in the history of the Long March family of rockets, stretching back to China's first satellite launch in 1970.
China launches two satellites within 24 hours
Posted: Fri, Nov 21 6:40 AM ET (1140 GMT)
Two Chinese launches placed into orbit Earth observation and disaster monitoring satellites in less than 24 hours on Thursday and Friday. A Long March 2D...
China launches imaging satellite
Posted: Sat, Nov 15 10:31 AM ET (1531 GMT)
A Long March rocket placed a Chinese Earth imaging satellite into orbit on Saturday. The Long March 2C rocket lifted off from the Taiyuan Satellite...
China launches experimental satellite
Posted: Wed, Oct 29 7:53 AM ET (1153 GMT)
A Long March rocket launched a Chinese satellite Monday that state media says will be used to conduct scientific experiments. The Long March 2C rocket...