Posted: Mon, Mar 31 2:10 PM ET (1810 GMT)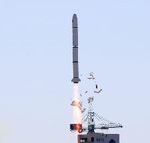 A Long March rocket placed what Chinese officials said was an experimental satellite into orbit on Monday. The Long March 2C rocket lifted off from the Jiuquan Satellite Launch Center at 10:58 pm EDT Sunday (0258 GMT, 10:58 am Beijing time Monday) and placed the Shijian 11-06 satellite into orbit. Official Chinese media said that the satellite, whose launch was not announced in advance, will be used to conduct scientific experiments, without providing additional details. Western observers speculate that the satellite has a military mission, perhaps as part of a missile early warning constellation.
Posted: Mon, Mar 17 5:50 AM ET (0950 GMT)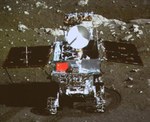 China's Yutu lunar rover awoke late last week still suffering from the same mechanical problems that have plagued the rover since January, Chinese officials said. Contact with the rover was restored at 6:42 pm EDT Thursday (2042 GMT Thursday, 6:42 am Friday Beijing time) after the rover hibernated through the two-week lunar night. Official Chinese media said that while the rover's instruments continue to function normally, "control issues" with the rover that apparently keep it from moving persist. Officials first indicated there were mechanical problems with the rover in late January, and a delayed recovery of rover communications last month after a previous hibernation period led to initial reports that the rover suffered a fatal malfunction. The cause of the rover's mechanical problems is unknown. Yutu landed on the Moon on December as part of the Chang'e-3 lander, which continues to operate normally.
China: "control circuit" failure on Yutu keeps rover from moving
Posted: Tue, Mar 4 5:13 AM ET (1013 GMT)
Chinese officials said the malfunction of a "control circuit" on its first lunar rover, Yutu, is keeping the rover from moving. The failed circuit in...
Yutu enters hibernation again with its technical problems unresolved
Posted: Sun, Feb 23 9:16 AM ET (1416 GMT)
China's Yutu lunar rover entered its third two-week hibernation period Saturday with technical problems that earlier appeared to jeopardize the mission unresolved, official...
China: Yutu rover "alive" but suffering problems
Posted: Thu, Feb 13 8:43 AM ET (1343 GMT)
Chinese officials said early Thursday that the the Yutu lunar rover, which many Western outlets had reported to be lost on Wednesday, was functioning but...