Posted: Fri, Apr 18 6:09 AM ET (1009 GMT)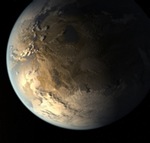 Astronomers announced Thursday the discovery of a planet approximately the size of the Earth orbiting in the habitable zone of its star. The planet, Kepler-186f, is near the outer edge of the habitable zone of the M-class star it orbits. The planet is about 10% larger than the Earth based on its radius, but astronomers noted they do not know the planet's mass, and thus its density. The planet is the first world about the size of the Earth found in a planet's habitable zone, although scientists cautioned that does not mean the planet is Earth-like since it receives only about one-third the flux from its star as the Earth does from the Sun. Astronomers detected the planet in transits observed by NASA's Kepler spacecraft; observations by the Gemini and Keck telescopes ruled out other phenomena, like a background star or stellar companion, that could have caused a signal like that detected by Kepler.
Posted: Fri, Apr 18 5:48 AM ET (0948 GMT)
Space Systems/Loral (SS/L) has won a contract from a Japanese company to build two direct broadcasting satellites, the companies announced Thursday. SS/L will build the JCSat-15 and JCSat-16 satellites for Sky Perfect JSat for launch in 2016. JCSat-15 will replace the existing N-SAT-110 satellite at 110 degrees east in GEO, which provides direct to home television broadcasts to Japan for the Sky PerfectTV! service. JCSat-16 will serve as an on-orbit spare for the company's satellite fleet. Both spacecraft are based on SS/L's 1300-series bus. Terms of the contracts were not disclosed.
Soyuz launches Egyptian satellite
Posted: Thu, Apr 17 6:42 AM ET (1042 GMT)
A Soyuz rocket successfully launched an Egyptian remote sensing satellite on Wednesday. The Soyuz-U rocket lifted off from the Baikonur Cosmodrome at 12:20...
Cassini images show potential formation of new moon of Saturn
Posted: Wed, Apr 16 5:41 AM ET (0941 GMT)
Images from NASA's Cassini spacecraft show what scientists believe may be the formation of a tiny new moon on the edge of the Saturn'...
NASA and SpaceX reach agreement on Pad 39A lease
Posted: Tue, Apr 15 7:10 AM ET (1110 GMT)
NASA and SpaceX announced Monday that they have signed an agreement to lease Pad 39A at the Kennedy Space Center to SpaceX. The organizations said...