Posted: Sun, Apr 8 9:36 AM ET (1336 GMT)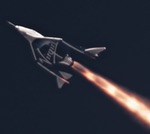 Virgin Galactic's second SpaceShipTwo made its first powered flight Thursday. The vehicle, named VSS Unity, was released from its WhiteKnightTwo carrier aircraft at about 12 pm EDT (1600 GMT) and fired its hybrid rocket motor for 30 seconds. The vehicle reached a peak altitude of more than 25,000 meters and a top speed of Mach 1.87 on the flight before safely landing at the Mojave Air and Space Port in California. The flight was the first powered flight test of SpaceShipTwo since a fatal crash of the first vehicle, VSS Enterprise, in October 2014. The company is planning an unspecified number of powered test flights this year in preparation for commercial operations. "Space feels tantalizingly close now," Virgin founder Richard Branson tweeted shortly after the flight.
Posted: Sun, Apr 8 9:30 AM ET (1330 GMT)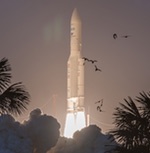 The Ariane 5 returned to flight Thursday, launching two communications satellites. The rocket lifted off from Kourou, French Guiana, at 5:34 pm EDT (2134 GMT) and placed its payloads into geostationary transfer orbits about a half-hour later. The rocket carried the DSN-1/Superbird-8 for Sky Perfect JSAT and Hylas-4 for Avanti. Both satellites suffered extensive delays: DSN-1/Superbird-8 was damaged during transport to the launch site for its originally planned 2016 launch, while Hylas-4 suffered manufacturing problems and financial difficulties. The launch was the first for the Ariane 5 since a January mission that placed two satellites into orbits with the wrong inclinations because the vehicle launched on the wrong azimuth.
X Prize Foundation revives lunar prize competition
Posted: Sun, Apr 8 9:25 AM ET (1325 GMT)
The X Prize Foundation is bringing back a lunar prize competition, although without any prize money for now. The foundation said Thursday it would restart...
Rocket Lab schedules first commercial launch
Posted: Sun, Apr 8 9:18 AM ET (1318 GMT)
Rocket Lab has scheduled its first commercial mission for later this month. The company, based in the U.S. but with launch operations in New...
Falcon 9 launches Dragon cargo spacecraft
Posted: Sun, Apr 8 9:14 AM ET (1314 GMT)
A SpaceX Falcon 9 launched a Dragon cargo spacecraft to the International Space Station Monday. The Falcon 9 lifted off from Cape Canaveral at 4:...