Posted: Mon, Mar 30 7:24 AM ET (1124 GMT)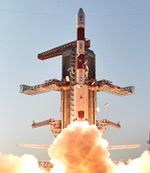 A PSLV rocket successfully launched the latest in a series of Indian navigation satellites on Saturday. The PSLV rocket lifted off from the Satish Dhawan Space Centre at 7:49 am EDT (1149 GMT, 5:19 pm local time) Saturday and placed the IRNSS-1D satellite into a geosynchronous transfer orbit. The spacecraft is the fourth in the Indian Regional Navigation Satellite System series of satellites, designed to provide navigation services for India and the surrounding region. The launch was postponed from early March to correct a problem with a transmitted on the spacecraft.
Posted: Sat, Mar 28 6:55 AM ET (1055 GMT)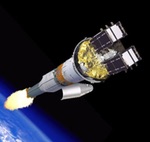 A Soyuz rocket successfully launched a pair of Galileo navigation satellites, the first launch of such spacecraft since two were placed in the wrong orbit last year. The Soyuz lifted off from French Guiana at 5:46 pm EDT (2146 GMT) Friday carrying the seventh and eighth operational Galileo satellites. The satellites separated from the Fregat upper stage nearly four hours after launch at their planned medium Earth orbit. The launch was the first for the Galileo program after a malfunction of the Fregat in an August 2014 launch placed two Galileo satellites into improper orbits. Those satellites have since been able to maneuver to the correct orbits, and the problem with the Fregat has been corrected. European officials hope to have an initial operating capability of 16 satellites in place by the end of 2016, with a full constellation of 30 satellites by 2020.
New crew arrives at ISS
Posted: Sat, Mar 28 6:45 AM ET (1045 GMT)
Two Russians and one American arrived at the International Space Station Friday night, six hours after their launch from Kazakhstan. A Soyuz rocket lifted off...
Japan launches reconnaissance satellite
Posted: Fri, Mar 27 2:10 PM ET (1810 GMT)
An H-2A rocket launched the latest in a series of reconnaissance satellites for the Japanese government on Thursday. The H-2A lifted off from...
Dnepr launches South Korean satellite
Posted: Fri, Mar 27 1:50 PM ET (1750 GMT)
A Dnepr rocket successfully launched a South Korean remote sensing satellite on Thursday. The Dnepr lifted off from the Yasny Launch Base in Russia at...