Posted: Sat, Nov 28 3:51 PM ET (2051 GMT)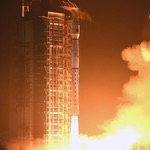 China launched the latest in a series of reconnaissance satellites on Thursday. A Long March 4C rocket lifted off from the Taiyuan Satellite Launch Center at 4:24 pm EDT Wednesday (2124 GMT Wednesday, 5:24 am Thursday Beijing time) and placed the Yaogan-29 satellite into orbit. The satellite, according to official media accounts, will be used for experiments and civil applications, but outside observers widely believe the Yaogan series is used for military applications.
Posted: Sat, Nov 28 3:50 PM ET (2050 GMT)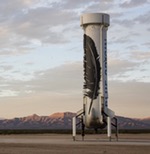 Blue Origin flew its New Shepard suborbital vehicle on a successful test flight Monday, going to an altitude of more than 100 kilometers and successfully landing its propulsion stage. The test, conducted at the company's West Texas site and announced one day later, saw the successful launch of New Shepard and its ascent to an altitude of 100.5 kilometers. The crew module separate from the propulsion module and parachuted to a landing, while the propulsion module made a powered vertical landing. A previous test flight in April suffered a hydraulics problem that prevented the propulsion module from landing. Company founder Jeff Bezos said a number of additional test flights are planned before it will carry people, likely in two years.
H-2A launches commercial satellite
Posted: Sat, Nov 28 3:48 PM ET (2048 GMT)
A Japanese H-2A rocket launched a communications satellite for a Canadian company in a rare commercial mission for the launch vehicle. The H-2A...
Amos-5 satellite fails
Posted: Sat, Nov 28 3:47 PM ET (2047 GMT)
A communications satellite owned by an Israeli company has failed in orbit and probably will not be revived, the company announced Sunday. Spacecom said the...
China launches communications satellite for Laos
Posted: Sat, Nov 21 6:11 PM ET (2311 GMT)
A Long March rocket successfully launched a communications satellite developed for Laos. The Long March 3B lifted off from the Xichang Satellite Launch Center at...