Posted: Sat, Oct 3 9:12 AM ET (1312 GMT)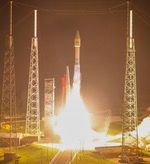 An Atlas 5 rocket launched a Mexican communications satellite Friday on the 100th mission carried out by United Launch Alliance. The Atlas 5 421 lifted off from Cape Canaveral, Florida, at 6:28 am EDT (1028 GMT) carrying the Morelos-3 satellite. The rocket's Centaur upper stage released the satellite into geostationary transfer orbit nearly three hours later. The Boeing-built spacecraft will provide mobile communications services across Mexico for the country's Ministry of Communications and Transportation. The launch, a rare commercial mission for the Atlas, was the 100th launch carried out by ULA since the Boeing-Lockheed Martin joint venture started operations in late 2006.
Posted: Sat, Oct 3 9:03 AM ET (1303 GMT)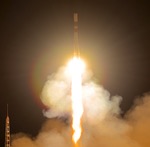 A Progress cargo spacecraft docked with the International Space Station Thursday evening, six hours after its launch from Kazakhstan. A Soyuz rocket carrying the Progress M-29M spacecraft lifted off from the Baikonur Cosmodrome at 12:49 pm EDT (1649 GMT), placing the spacecraft into orbit nine minutes later. The Progress docked with the station's Zvezda module at 6:52 pm EDT (2252 GMT) after completing a four-orbit rendezvous trajectory. The Progress carried nearly 2,900 kilograms of cargo for the station, including food, water, propellant, and other supplies.
China launches navigation satellite
Posted: Fri, Oct 2 12:08 PM ET (1608 GMT)
A Long March rocket placed the 20th in a series of Chinese navigation satellites into orbit Wednesday. The Long March 3B lifted off at 7:...
Scientists detect evidence of liquid water on Mars
Posted: Fri, Oct 2 12:06 PM ET (1606 GMT)
Scientists said this week that they have detected evidence of temporary, periodic flows of liquid water on the surface of Mars, increasing the chances that...
India launches astronomy satellite
Posted: Fri, Oct 2 12:04 PM ET (1604 GMT)
An Indian PSLV rocket placed the country's first astronomy satellite and several secondary payloads into orbit Monday. The PSLV lifted off from the Satish...