Posted: Mon, Apr 21 5:03 AM ET (0903 GMT)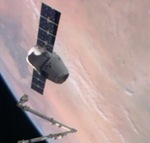 The crew of the International Space Station grappled and berthed a Dragon cargo spacecraft that arrived at the station Sunday morning. The ISS crew used the station's Canadarm2 robotic arm to grapple the Dragon spacecraft at 7:14 am EDT (1114 GMT), berthing it to the station's Harmony node nearly three hours later. The Dragon, launched by SpaceX on Friday afternoon, carries about 2,100 kilograms of cargo for the station, including experiments and other supplies for the crew. Dragon will spend four weeks attached to the station before departing with more than 1,500 kilograms of equipment and experiment results to be returned to Earth.
Posted: Sat, Apr 19 7:46 AM ET (1146 GMT)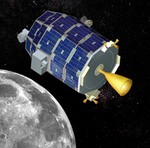 A NASA spacecraft wrapped up a several-month mission to study the Moon's dust environment by crashing into the lunar surface late Thursday. The Lunar Atmosphere and Dust Environment Explorer (LADEE) spacecraft crashed into the lunar surface some time between 9:30 pm and 10:22 pm PDT Thursday (0430 and 0522 GMT Friday), NASA announced Friday, not giving a specific impact location other than the lunar farside. The spacecraft, launched in September, entered lunar orbit in early October on a mission to study the Moon's tenuous atmosphere and dust environment. The spacecraft also performed a test of laser communications, transmitting data at rates of up to 622 Mbps. LADEE completed its primary mission early this year and gradually lowered its orbit at it exhausted its remaining propellant. Engineers plan to refine the impact location based on spacecraft telemetry, then have NASA's Lunar Reconnaissance Orbiter take images of the suspected impact site.
SpaceX launches Dragon cargo spacecraft to ISS
Posted: Fri, Apr 18 6:23 PM ET (2223 GMT)
A Falcon 9 rocket successfully launched a Dragon cargo spacecraft Friday on a mission to ferry cargo to the International Space Station (ISS). The Falcon...
Astronomers discover Earth-sized planet in star's habitable zone
Posted: Fri, Apr 18 6:09 AM ET (1009 GMT)
Astronomers announced Thursday the discovery of a planet approximately the size of the Earth orbiting in the habitable zone of its star. The planet, Kepler-...
SS/L to build two JSAT satellites
Posted: Fri, Apr 18 5:48 AM ET (0948 GMT)
Space Systems/Loral (SS/L) has won a contract from a Japanese company to build two direct broadcasting satellites, the companies announced Thursday. SS/L...