Posted: Tue, May 21 7:35 AM ET (1135 GMT)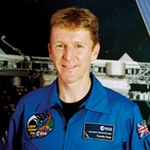 A British astronaut will fly to the International Space Station in 2015, becoming the first official representative of the British government to fly in space. Tim Peake, a member of the ESA astronaut corps, will fly on Expedition 46/47 in 2015 on a six-month mission. Peake is the first British ESA astronaut, joining the astronaut corps in 2009, and will be the eighth ESA astronaut to fly a long-duration mission on the ISS. The UK had for many years not been a part of ESA's human spaceflight programs, electing to support other ESA programs instead, but in recent years has provided some funding for human spaceflight. Peake will be the first British astronaut officially representing the UK, although several other Britons or people with dual British citizenship have flown in space, including Helen Sharman with the Soviets in 1991 and several NASA astronauts.
Posted: Tue, May 21 7:18 AM ET (1118 GMT)
A capsule carrying plants and animals returned to Earth after a month-long flight, only to find that many of the animals on board had perished. The Bion-M1 spacecraft landed Sunday in Russia's Orenburg region, 1,200 kilometers southeast of Moscow, 30 days after launch on a Soyuz rocket from Baikonur. Bion launched with a complement of mice, gerbils, and other animals and plants to investigate their reaction to the space environment. However, an equipment failure on the spacecraft meant that a number of mice, gerbils, and newts died during the flight. Other animals, including a number of lizards, survived the flight and the return to Earth.
Mars rover breaks distance record
Posted: Sat, May 18 10:02 AM ET (1402 GMT)
A nine-year-old Mars rover has broken the NASA record for the longest distance driven on the surface of another world. NASA announced this...
ViaSat taps Boeing for next-generation broadband satellite
Posted: Fri, May 17 9:00 AM ET (1300 GMT)
Satellite broadband provider ViaSat announced Thursday that it has selected Boeing to build its next satellite that will provided increases capacity and coverage. Boeing will...
Reaction wheel fails on Kepler, putting mission's future in question
Posted: Thu, May 16 6:50 AM ET (1050 GMT)
A second reaction wheel on NASA's Kepler spacecraft has failed, forcing agency officials to consider alternative missions for the exoplanet-hunting spacecraft. NASA reported...