Posted: Fri, May 22 8:36 AM ET (1236 GMT)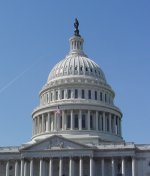 The House of Representatives passed a bill Thursday containing a number of commercial space policy provisions. The House approved the SPACE Act on a 284-133 vote after a two-hour floor debate Thursday morning. The act extends third-party launch indemnification and the "learning period" restricting safety regulations for people on commercial spacecraft through 2025, and includes a number of other provisions related to launch, space resource utilization, commercial remote sensing, and the Office of Space Commercialization. Some Democrats opposed the bill, citing a lack of hearings and concerns about its provisions. The House rejected an amendment that would have replaced the bill with the text of a similar bill in the Senate which offered a shorter extension of the learning period and launch indemnification.
Posted: Thu, May 21 8:00 PM ET (0000 GMT)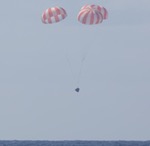 A SpaceX Dragon spacecraft departed from the International Space Station early Thursday and splashed down in the Pacific Ocean several hours later. The Dragon spacecraft, completing the sixth Commercial Resupply Services mission under a SpaceX contract with NASA, was released by the station's robotic arm at 7:04 am EDT (1104 GMT) and departed the vicinity of the ISS. The spacecraft reentered and splashed down in the Pacific about 250 kilometers southwest of Long Beach, California, at 12:42 pm EDT (1642 GMT). The spacecraft returned about 1,400 kilograms of experiments and other equipment from the station. The next Dragon mission to the ISS is scheduled for launch June 26.
Atlas launches X-37B on fourth mission
Posted: Thu, May 21 7:50 PM ET (2350 GMT)
An Atlas 5 placed the Air Force's X-37B and a number of smallsat secondary payloads into orbit on Wednesday. The Atlas 5 501...
Proton launch fails
Posted: Sat, May 16 9:00 AM ET (1300 GMT)
A Proton rocket carrying a Mexican communications satellite malfunctioned during launch, causing the satellite and upper stage to crash in Siberia. The Proton M rocket...