Posted: Tue, Mar 3 6:44 AM ET (1144 GMT)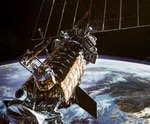 A 20-year-old weather satellite exploded in orbit last month, creating several dozen pieces of debris. Air Force officials confirmed that the Defense Meteorological Satellite Program (DMSP) F13 satellite, launched in 1995, suffered a "catastrophic event" February 3 after a sudden temperature spike. That event created more than 40 pieces of debris being tracked today. The satellite had been serving in a backup role since 2006. Air Force officials said the spacecraft's data were not used in weather forecast models, although the loss of the satellite will cause "slightly reduced" access to real-time weather imagery for tactical users.
Posted: Tue, Mar 3 6:27 AM ET (1127 GMT)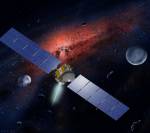 NASA's Dawn spacecraft is on track to enter orbit around the dwarf planet Ceres at the end of this week, project officials said Monday. Dawn will go into orbit around Ceres on Friday after using its ion thrusters to travel there from the lare asteroid Vesta. Ceres, the largest object in the main asteroid belt and designated a dwarf planet by the International Astronomical Union in 2006, appears to have signs of recent geological activity on its surface, scientists said, based on ever-improving images returned by Dawn. Of particular interest are bright spots recently detected on Ceres' surface, which may be patches of ice recently exposed by plumes or other geological activity.
Falcon 9 launches two communications satellites
Posted: Mon, Mar 2 6:20 AM ET (1120 GMT)
A SpaceX Falcon 9 rocket successfully launched a pair of small communications satellites Sunday night. The Falcon 9 v1.1 rocket lifted off on schedule...
Astronauts wrap up series of ISS spacewalks
Posted: Mon, Mar 2 6:11 AM ET (1111 GMT)
Two NASA astronauts completed the last in a series of three spacewalks outside the International Space Station on Sunday to prepare the station for future...
Russia launches reconnaissance satellite
Posted: Sat, Feb 28 8:19 AM ET (1319 GMT)
A Soyuz rocket launched a Russian military reconnaissance satellite on Friday. The Soyuz 2-1a rocket lifted off from the Plesetsk Cosmodrome in northern Russia...