Posted: Sun, Jun 24 10:14 AM ET (1414 GMT)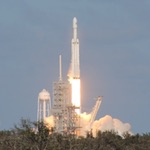 SpaceX has won a $130 million Air Force launch contract for a Falcon Heavy mission. The Air Force announced the contract Thursday for the Air Force Space Command 52 payload, a classified mission scheduled for launch late in fiscal year 2020 from Florida. The Falcon Heavy beat out United Launch Alliance's Delta 4 Heavy for the contract, the fifth competitive procurement under the current EELV Phase 1A program. The Air Force has also certified the Falcon Heavy for EELV missions.
Posted: Sun, Jun 24 10:13 AM ET (1413 GMT)

The White House has asked NASA to study converting one or more of its field centers into more independent organizations. The proposal, part of a broader package of proposed government reforms, would examine the benefits and drawbacks of turning government-operated centers into federally funded research and development centers (FFRDCs), which are owned and funded by the government but operated by a contractor. JPL, run by Caltech for NASA, is the agency's current sole FFRDC. A 2004 report by the Aldridge Commission also suggested turning NASA centers into FFRDCs as an alternative to closing one or more centers, but the administration and Congress did not act on that recommendation.
White House releases near Earth object action plan
Posted: Sun, Jun 24 10:12 AM ET (1412 GMT)
The White House released Wednesday an "action plan" for dealing with threats posed by near Earth objects (NEOs). The plan outlines five goals ranging from...
UAE to fly astronaut to the ISS in 2019
Posted: Sun, Jun 24 10:11 AM ET (1411 GMT)
An Emirati astronaut will fly to the International Space Station next year. The Mohammed bin Rashid Space Centre in the United Arab Emirates announced Wednesday...
President directs Pentagon to set up Space Force
Posted: Sun, Jun 24 10:10 AM ET (1410 GMT)
President Trump used Monday's National Space Council meeting to direct the Pentagon to establish a Space Force. Trump, in remarks at the beginning of...