Posted: Thu, Aug 21 12:26 PM ET (1626 GMT)
In the latest sign of "business as usual" operations despite ongoing geopolitical issues, United Launch Alliance (ULA) confirmed Wednesday that it took delivery of two more RD-180 engines from Russian company NPO Energomash. The engines were delivered to ULA in Alabama on schedule Wednesday, as expected, company officials said. ULA expects to receive three more RD-180s from Energomash later this year. Access to the RD-180 was put in question this spring, after Russian deputy prime minister Dmitry Rogozin said Russia would only allow the engines to be used for non-military launches of the Atlas 5 rocket. A federal court also briefly placed an injunction on payments to Energomash in early May out of concerns that those payments could violate US sanctions for Russia's actions in Ukraine. That injunction was lifted after about a week, and Russian officials have made no effort to block RD-180 exports.
Posted: Thu, Aug 21 12:18 PM ET (1618 GMT)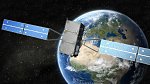 Poor weather postponed Thursday's scheduled launch of two European navigation satellites on a Soyuz rocket for at least 24 hours. A Soyuz ST-B rocket was scheduled to lift off Thursday morning from the Guiana Space Center and place two Galileo satellite into orbit. However, citing "unfavorable" weather conditions at altitude, Arianespace postponed the launch at least until Friday morning. The two Galileo satellites will be the fifth and sixth operational spacecraft of the navigation satellite constellation. Yesterday, Arianespace and ESA signed a contract for three Ariane 5 launches, each carrying four Galileo satellites, starting in 2015. Those launches, along with five Soyuz launches, will place a total of 22 Galileo satellites into orbit.
China launches Earth observation satellite
Posted: Tue, Aug 19 9:09 AM ET (1309 GMT)
A Long March rocket placed an Earth observation satellite into orbit for China on Tuesday. The Long March 4B rocket lifted off from the Taiyuan...
Russian cosmonauts complete ISS spacewalk
Posted: Tue, Aug 19 9:00 AM ET (1300 GMT)
Two Russian cosmonauts successfully carried out a five-hour spacewalk outside the International Space Station on Monday that included the deployment of a CubeSat. Alexander...
Cygnus departs from ISS
Posted: Sat, Aug 16 9:49 AM ET (1349 GMT)
A Cygnus cargo spacecraft unberthed from the International Space Station Friday morning, ending a nearly month-long stay at the outpost. The station's Canadarm2...