Posted: Tue, Jul 22 9:02 AM ET (1302 GMT)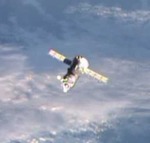 A Progress cargo spacecraft undocked from the International Space Station on Monday, freeing up a docking port for a new cargo spacecraft to be launched later this week. The Progress M-23M spacecraft, designated Progress 55 by NASA, undocked from the station's Pirs module at 5:44 pm EDT (2144 GMT) Monday. The spacecraft will remain in orbit for ten days to perform engineering tests before reentering on July 31. The Progress's departure clears the way for the launch of a new Progress spacecraft, slated to lift off on a Soyuz rocket Wednesday at 5:44 pm EDT (2144 GMT) Wednesday and arrive at the station about six hours later.
Posted: Sun, Jul 20 12:49 PM ET (1649 GMT)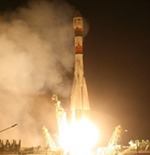 A Soyuz rocket successfully launched the latest in a series of biological and materials research spacecraft early Saturday. The Soyuz-2.1a rocket launched the Foton-M 4 satellite at 4:50 pm EDT Friday (2050 GMT Friday, 2:50 am local time Saturday) from the Baikonur Cosmodrome in Kazakhstan. The spacecraft, weighing 6,840 kilograms, carries a payload of plants and animals, as well as materials science experiments. The spacecraft will remain in orbit for up to 60 days before returning the experiments to Earth.
Rosetta comet has double nucleus
Posted: Fri, Jul 18 7:38 AM ET (1138 GMT)
The comet that is the target of a European mission appears to have a nucleus comprised of two bodies, not one, which could complicate plans...
UK announces shortlist of spaceport sites
Posted: Thu, Jul 17 5:50 AM ET (0950 GMT)
The British government announced this week a list of eight potential sites for a commercial spaceport that could be in operation by 2018. The eight...
Cygnus berths with ISS
Posted: Wed, Jul 16 2:25 PM ET (1825 GMT)
A Cygnus spacecraft carrying nearly 1,500 kilograms of cargo berthed with the International Space Station on Wednesday morning. The station's robotic arm grappled...