Posted: Tue, Sep 23 1:13 PM ET (1713 GMT)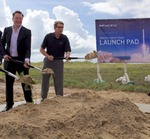 SpaceX formally broke ground Monday on its new commercial launch site in Texas, although construction of the facility won't ramp up until next year. The ceremony, featuring local officials, Texas. Gov. Rick Perry, and SpaceX CEO Elon Musk, took place on the site of the spaceport on the coast of the Gulf of Mexico, east of Brownsville and just north of the Mexican border. SpaceX plans to use the launch site for launches of commercial satellites, including commercial communications satellites launched to geosynchronous orbit, but Musk said the site could also be used for non-NASA crewed missions. Musk said that major work on the site will wait until the third quarter of 2015, as the company is currently focused on renovating Launch Complex 39A at the Kennedy Space Center. The groundbreaking took place a month and a half after SpaceX confirmed it would locate its commercial launch site in Texas.
Posted: Tue, Sep 23 12:55 PM ET (1655 GMT)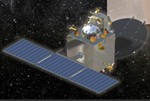 India's first Mars mission successfully tested the engine it will use this week to go into orbit around the Red Planet. The Mars Orbiter Mission (MOM) spacecraft fired its main engine for four seconds on Monday, confirming that it is in good condition. That engine will fire early Wednesday for 24 minutes to slow the spacecraft down and place it into an elliptical orbit around the planet. That engine had previously been used to raise the spacecraft's orbit around the Earth after launch last November. MOM is India's first Mars mission; the spacecraft carries a camera and several other instruments to study the planet's surface and atmosphere.
MAVEN enters Mars orbit
Posted: Mon, Sep 22 8:32 AM ET (1232 GMT)
NASA's MAVEN Mars spacecraft, on a mission to understand what happened to the Martian atmosphere, entered orbit around Mars Sunday night as planned. The...
Falcon 9 launches Dragon cargo spacecraft
Posted: Sun, Sep 21 7:10 AM ET (1110 GMT)
A SpaceX Falcon 9 rocket successfully placed into orbit early Sunday a Dragon cargo spacecraft destined for the International Space Station. The Falcon 9 v1....
Dawn glitch to delay spacecraft's arrival at Ceres
Posted: Sat, Sep 20 3:53 PM ET (1953 GMT)
A problem with the ion propulsion system on NASA's Dawn spacecraft placed the spacecraft in safe mode for several days and will result in...