Posted: Sat, Feb 15 8:38 AM ET (1338 GMT)
An unusual rock spotted by NASA's Opportunity rover last month dubbed the "jelly doughnut" is simply a rock kicked up by the rover's wheels, NASA said Friday. Scientists spotted the rock, formally named Pinnacle Island but widely called the "jelly doughnut" due to its appearance, in early January; the rock was not seen in an image of the same area taken a few days earlier. Scientists and the public speculated about the rock's origin; one person filed a lawsuit against NASA claiming that the rock was a fungus that NASA was not properly investigating. Scientists said Friday that Pinnacle Island was a fragment of a rock that had been run over and broken up by the rover. Opportunity is now moving up a slope that will tilt its solar panels towards the Sun during the winter season there.
Posted: Thu, Feb 13 8:25 AM ET (1325 GMT)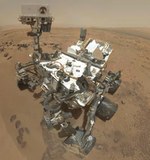 NASA's Curiosity Mars rover recently crossed a sand dune in its path towards Mt. Sharp and broke the five-kilometer mark in its traverses on the Red Planet, project officials report. Curiosity went over the top of a sand dune in a 7-meter trip across what scientists dubbed Dingo Gap on February 6. Rover controllers sent Curiosity over the dune rather than have the rover pass over rockier terrain, given concerns about wear and tear on the rover's six wheeels. Yesterday, JPL reported that Curiosity had broken the five-kilometer mark in its cumulative travel across the planet since landing in Gale Crater 18 months ago.
Scientists link linear features on Mars to water
Posted: Wed, Feb 12 5:27 AM ET (1027 GMT)
Planetary scientists analyzing data from a NASA spacecraft believe flowing water is the most likely explanation for a series of linear features seen on crater...
On tenth anniversary, Opportunity finds early Mars hospitable to life
Posted: Tue, Jan 28 6:22 AM ET (1122 GMT)
Scientists celebrating the tenth anniversary of Mars rover Opportunity's landing on Mars late last week said the rover has confirmed the planet had conditions...
Curiosity wheel wear increases
Posted: Tue, Dec 24 10:24 AM ET (1524 GMT)
As the NASA Mars rover Curiosity continues its exploration of Gale Crater, engineers are closely watching an unexpected increase in wear on the rover's...