Posted: Thu, Dec 24 5:12 PM ET (2212 GMT)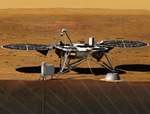 NASA announced Tuesday that it was delaying the launch of its Mars InSight lander mission, previously planned for March, until at least mid-2018 because of problems with one of its key instruments. NASA said continued problems with one of the lander's main instruments, a seismometer supplied by the French space agency CNES, would prevent the mission from launching in March. The instrument experienced a series leaks in its vacuum chamber that would have kept it from working once on Mars, and NASA decided that, after the latest leak was found in testing Monday, the instrument could not be ready in time for launch. The next launch window is in May 2018, but NASA said it would study potential solutions to the instrument problem and their costs before making a decision on when, or even if, to launch the mission.
Posted: Sat, Oct 24 10:30 AM ET (1430 GMT)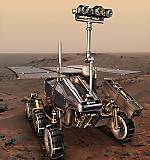 The European Space Agency has selected a region thought to once be a river delta as the landing site for a 2018 rover mission. ESA announced Wednesday that it plans to land its ExoMars 2018 rover in the Oxia Planum region of Mars in January 2019, eight months after its launch on a Proton rocket. The area, in the planet's equatorial region, is rich in minerals that suggest that it hosted liquid water early in the planet's history, and has geological features similar to rover deltas on Earth. ExoMars 2018 will follow up ESA's ExoMars 2016 mission scheduled for launch early next year; that mission consists of an orbiter and a small lander to demonstrate technologies for landing on the planet.
Scientists detect evidence of liquid water on Mars
Posted: Fri, Oct 2 12:06 PM ET (1606 GMT)
Scientists said this week that they have detected evidence of temporary, periodic flows of liquid water on the surface of Mars, increasing the chances that...
ExoMars launch postponed to March
Posted: Sat, Sep 26 9:36 AM ET (1336 GMT)
The European Space Agency said faulty components will force it to delay the launch of its ExoMars mission from January to March of 2016. ESA...
Plan allows for human Mars missions in 2030s
Posted: Wed, Apr 8 8:39 AM ET (1239 GMT)
A new proposal discussed at a recent workshop would allow human missions to Mars in the 2030s without a major increase in NASA's budget....