Posted: Fri, Aug 1 7:36 AM ET (1136 GMT)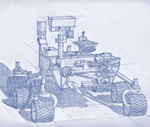 NASA revealed on Thursday the scientific instruments it plans to include on a 2020 Mars rover mission that will also collect samples for later return to Earth. NASA selected seven scientific payloads, including cameras, spectrometers, and a ground-penetrating radar. The rover also features an experiment to produce oxygen from carbon dioxide in the Martian atmosphere, a test of in situ resource utilization (ISRU) technologies needed for future human missions. In addition to those instruments, Mars 2020 will collect and cache Mars soil samples for return to Earth on a future mission. The selected payloads weigh and cost less than those on Curiosity, in part to accommodate the sample cache. Mars 2020 is other closely based on Curiosity, although NASA officials said they will make some tweaks to the rover's design, including improving the rover's wheels to address damage that Curiosity's wheels have suffered.
Posted: Sun, Jun 29 8:58 AM ET (1258 GMT)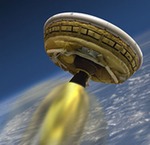 NASA declared Saturday's test flight of a Mars reentry technology demonstrator a success although the vehicle's parachute failed to fully open. The Low Density Supersonic Decelerator (LDSD) lifted off on a balloon from the Hawaiian island of Kauai at 2:41 pm EDT (1841 GMT) Saturday, raising to an altitude of more than 35 kilometers. At 5:05 pm EDT (2105 GMT), the LDSD separated from the balloon and ignited its rocket engine, accelerating to Mach 4 and an altitude of 55 kilometers. While one of the key technologies being tested by LDSD, an inflatable ballute designed to slow the vehicle down, did appear to work, another key system, a large parachute, failed to open fully. Project officials still declared the mission a success since the primary objective for this flight was to test the technologies for getting LDSD to the desired velocities and altitudes. Two additional LDSD test flights are planned, with the next in mid-2015. NASA hopes LDSD will successfully test technologies that can eventually be used to land large spacecraft on the surface of Mars.
Curiosity marks one Martian year on Red Planet
Posted: Wed, Jun 25 9:46 AM ET (1346 GMT)
NASA's Mars rover Curiosity has now spent a full Martian year on the surface of the planet, achieving its primary mission goal, NASA said...
Winds delay test of Mars reentry technology
Posted: Fri, Jun 13 7:07 AM ET (1107 GMT)
A persistent, unseasonal pattern of high winds has delayed a planned test of a Mars reentry technology demonstrator until at least late this month, project...
Report calls for new approach for sending humans to Mars
Posted: Thu, Jun 5 9:50 AM ET (1350 GMT)
A report by a Congressionally-mandated committee released Wednesday reaffirmed Mars as the long-term destination of human space exploration, but concluded NASA's current...