Posted: Wed, Dec 17 7:41 AM ET (1241 GMT)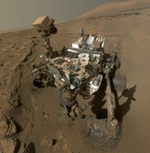 NASA's Curiosity Mars rover has detected short-lived increases in methane concentrations in the Martian atmosphere, although scientists cautioned this does not mean the methane is produced by life. An instrument on Curiosity measured two spikes in the concentration of methane in the atmosphere, ten times above usual levels; the methane concentrations decayed within months. Scientists said the methane source must be localized, but have no data on what could be causing the methane release. Methane on Mars could be produced by microbes living below the Martian surface, but also through geological processes like the interaction of minerals with water.
Posted: Wed, Dec 10 8:31 AM ET (1331 GMT)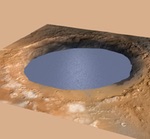 Data collected by NASA's Curiosity Mars rover has led scientists to conclude that the crater the rover is exploring was once a lake whose sediments built up the crater's central peak. Project scientists, analyzing data about sedimentary rocks obtained by Curiosity, said that they believe the crater repeatedly filled with water, which later evaporated, early in the planet's history. That process left sediments later sculpted by winds into the mountain at the center of Gale Crater. Curiosity is examining rocks at the base of that mountain, unofficially called Mount Sharp, and plans to drive up the mountain in the next several years to examine other rock layers.
Comet flyby created Martian meteor shower
Posted: Sun, Nov 9 6:39 PM ET (2339 GMT)
The closely flyby of a comet to Mars last month created an "impressive" meteor shower in the planet's atmosphere, according to data from several...
Mars spacecraft survive comet flyby
Posted: Wed, Oct 22 7:53 AM ET (1153 GMT)
Spacecraft from the United States, Europe, and India all reported no problems after a comet passed within 140,000 kilometers of Mars this week. Comet...
Study raises doubts about viability of Mars One
Posted: Wed, Oct 15 8:29 AM ET (1229 GMT)
A proposed privately-developed one-way mission to Mars would likely kill its crew within months of arriving on the planet, according to an MIT...