Posted: Sat, Oct 24 10:30 AM ET (1430 GMT)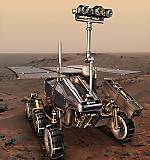 The European Space Agency has selected a region thought to once be a river delta as the landing site for a 2018 rover mission. ESA announced Wednesday that it plans to land its ExoMars 2018 rover in the Oxia Planum region of Mars in January 2019, eight months after its launch on a Proton rocket. The area, in the planet's equatorial region, is rich in minerals that suggest that it hosted liquid water early in the planet's history, and has geological features similar to rover deltas on Earth. ExoMars 2018 will follow up ESA's ExoMars 2016 mission scheduled for launch early next year; that mission consists of an orbiter and a small lander to demonstrate technologies for landing on the planet.
Posted: Fri, Oct 2 12:06 PM ET (1606 GMT)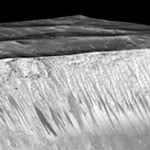 Scientists said this week that they have detected evidence of temporary, periodic flows of liquid water on the surface of Mars, increasing the chances that the planet could still be hospitable to life today. In a paper published in Nature Geoscience and announced at a NASA press conference, scientists said they detected hydrated salts in dark streaks occasionally seen on the sides of craters on the planet. Those salts, scientists said, most likely formed in the presence of at least trace amounts of liquid water that formed those streaks. The discovery adds to the evidence that Mars was once a more hopsitable world, and could still possibly support life beneath its surface. The water could also be a resource for future astronauts, although planetary protection concerns may make if difficult for future robotic or human missions to study the streaks.
ExoMars launch postponed to March
Posted: Sat, Sep 26 9:36 AM ET (1336 GMT)
The European Space Agency said faulty components will force it to delay the launch of its ExoMars mission from January to March of 2016. ESA...
Plan allows for human Mars missions in 2030s
Posted: Wed, Apr 8 8:39 AM ET (1239 GMT)
A new proposal discussed at a recent workshop would allow human missions to Mars in the 2030s without a major increase in NASA's budget....
MAVEN detects unusual aurora, dust cloud
Posted: Sat, Mar 21 9:39 AM ET (1339 GMT)
NASA's MAVEN Mars orbiter has detected an dust cloud in the planet's upper atmosphere as well as an unusual aurora, scientists reported this...