Posted: Wed, Apr 8 8:39 AM ET (1239 GMT)
A new proposal discussed at a recent workshop would allow human missions to Mars in the 2030s without a major increase in NASA's budget. The plan, discussed at a workshop in Washington hosted by The Planetary Society, features a series of precursor missions in cislunar space before sending a human mission to orbit Mars in 2033. That would be followed by a "short-stay" landing mission in 2039. The plan, developed internally at JPL, was subjected to a cost analysis by The Aerospace Corporation and found it could fit into NASA's current budget, adjusted for inflation, provided NASA ended its operations of the ISS in 2024 or, at the latest, 2028. The Planetary Society hopes the discussions about the plan lead to action, although most likely not until the next president takes office.
Posted: Sat, Mar 21 9:39 AM ET (1339 GMT)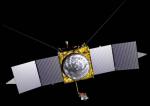 NASA's MAVEN Mars orbiter has detected an dust cloud in the planet's upper atmosphere as well as an unusual aurora, scientists reported this week. In presentations at the Lunar and Planetary Sciences Conference in Houston, scientists said MAVEN detected a dust cloud at altitudes of 150 to 300 kilometers above the Martian surface, far higher than previously detected. The clouds could consist of dust carried up from the surface, or drifting down from Mars's two moons, but scientists said there is no good process to explain either possibility. Scientists also said they detected aurorae in the planet's northern hemisphere; aurorae had been detected at Mars before, but not at those latitudes or that deep into the planet's atmosphere. The findings are some of the first science results from MAVEN, which arrived at Mars six month ago.
Mars One delays missions by two years
Posted: Fri, Mar 20 7:27 PM ET (2327 GMT)
A private venture with the long-term goal of sending humans to Mars on one-way missions has pushed back its timeline by two years....
Early Mars had large ocean
Posted: Fri, Mar 6 6:23 AM ET (1123 GMT)
Scientists reported Thursday that Mars, early in its history, likely had an ocean larger than the Arctic Ocean on Earth today. In a paper published...
Short circuit halts Mars rover operations
Posted: Thu, Mar 5 6:26 AM ET (1126 GMT)
A "transient short circuit" in the Mars rover Curiosity's robotic arm has put operations of the rover on hold while engineers assess the problem,...