Posted: Wed, Oct 22 7:53 AM ET (1153 GMT)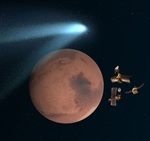 Spacecraft from the United States, Europe, and India all reported no problems after a comet passed within 140,000 kilometers of Mars this week. Comet C/2013 A1 Siding Spring sped past Mars on Sunday, coming as close as 139,500 kilometers to the surface of Mars. Space agencies, concerned that high-velocity dust from the comet could harm spacecraft, maneuvered their spacecraft so that they would be on the opposite side of the planet from the comet during closest approach. NASA, ESA, and ISRO all reported afterwards that their spacecraft, including new Mars orbiters MAVEN from the US and MOM from India, experienced no problems during the flyby, and were able to collect observations of the comet as well. Images of the comet by Mars Reconnaissance Orbiter indicate that its nucleus is less than half the size as previously expected.
Posted: Wed, Oct 15 8:29 AM ET (1229 GMT)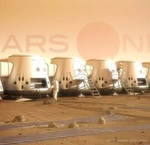 A proposed privately-developed one-way mission to Mars would likely kill its crew within months of arriving on the planet, according to an MIT study. The analysis of Mars One, performed by MIT researchers and presented at the recent International Astronautical Congress, concluded that the crops needed to sustain the Mars settlers would create excess oxygen, which would require additional nitrogen to dilute it to safe levels. That would deplete gas supplies intended to compensate for leaks, causing a drop in overall air pressure in the habitat over time and suffocating settlers as soon as 68 days after arrival. The Mars One plan, the MIT researchers also found, underestimated the amount of spare parts needed to maintain the facility; the additional supplies would require 15 Falcon Heavy launches versus the 6 in the original plan. Mars One, a Dutch organization that proposed sending four people to Mars on a one-way mission in the 2020s at a cost of just $6 billion, has argued that technology exists to remove excess oxygen from the habitat's air, but the MIT study notes none of those systems have been developed for use in space.
Mars spacecraft prepare to observe comet flyby
Posted: Tue, Oct 14 8:41 AM ET (1241 GMT)
An international fleet of spacecraft orbiting and on the surface of Mars are planning to observe a comet as it makes a close flyby of...
NASA and ISRO sign agreement on Mars, Earth science cooperation
Posted: Sat, Oct 4 9:27 AM ET (1327 GMT)
The space agencies of India and the United States signed an agreement this week to cooperate on both an Earth sciences mission and Mars exploration....
Indian spacecraft enters orbit around Mars
Posted: Wed, Sep 24 7:19 AM ET (1119 GMT)
India's first mission to Mars successfully entered orbit around the Red Planet early Wednesday. The Mars Orbiter Mission (MOM) spacecraft performed a 24-minute...