Posted: Wed, Aug 3 6:43 AM ET (1043 GMT)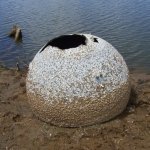 A piece of debris from the space shuttle Columbia has been found in Texas lakebed eight and a half years after the shuttle was destroyed. NASA has identified the object, a spherical tank about 1.2 meters in diameter, as one of 18 cryogenic tanks used to store hydrogen and oxygen on the shuttle for use by its fuel cells. The tank was spotted late last week, exposed as waters of Lake Nacogdoches receded during a drought. Debris from Columbia rained down on that area of east Texas on February 1, 2003, when the shuttle broke up during reentry.
Posted: Wed, Dec 31 6:38 AM ET (1138 GMT)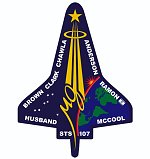 The crew of the space shuttle Columbia lost consciousness within seconds of the breakup of the orbiter during reentry on the STS-107 mission nearly six years ago, a NASA report released Tuesday concludes. An investigation by NASA determined that the crew module of Columbia suffered rapid depressurization after it broke away from the orbiter on February 1, 2003, incapacitating the seven astronauts on board before they could configure their pressure suits. The astronauts also suffered "lethal trauma" from the rapid rotation of the crew compartment after breakup, primarily because of a lack of upper-body restraints. The high altitude and speed of the breakup made the accident unsurvivable with any existing capability, according to the report. NASA prepared the report, which includes 30 recommendations for safety improvements, to guide the development of not just its own Orion spacecraft but other manned vehicles developed by other countries and commercial entities. The report was released during an ordinarily quiet period between Christmas and New Years so that the children of the crew's families would be at home when the report was released to allow discussion of it in privacy.
Report: NASA paid settlement to STS-107 families
Posted: Sun, Apr 15 11:21 AM ET (1521 GMT)
NASA gave $26.6 million to the families of the astronauts killed on the STS-107 shuttle mission in 2003, the Orlando Sentinel reported Sunday....
Panel members criticize NASA return to flight work
Posted: Thu, Aug 18 7:48 AM ET (1148 GMT)
Several members of a task force charged with evaluating NASA's effort to return the space shuttle flight believe the agency has yet to solve...
Panel finds NASA falls short on shuttle fixes
Posted: Tue, Jun 28 7:09 AM ET (1109 GMT)
An independent panel reviewing NASA's compliance with recommendations made in the wake of the Columbia accident found that the agency has failed to meet...