Posted: Sat, Dec 16 9:54 AM ET (1554 GMT)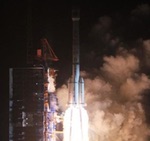 China launched Algeria's first communications satellite Sunday. The Long March 3B lifted off from the Xichang Satellite Launch Center at 11:40 am EST (12:40 am Beijing time Monday) and placed the Alcomsat-1 spacecraft into orbit. The 5,225-kilogram satellite carries a payload of 33 Ku-, Ka- and L-band transponders. China built and launched the satellite in a deal similar to those it has signed with countries such as Belarus, Laos and Bolivia.
Posted: Sun, Dec 10 6:05 AM ET (1205 GMT)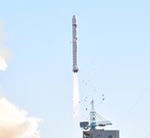 China launched a military satellite December 3. The Long March 2D rocked lifted off at 11:11 pm EST (0411 GMT Dec. 4) from the Jiuquan Satellite Launch Center and carried what Chinese officials called Land Survey Satellite-1. The satellite will be used for "remote sensing exploration of land resources," according to Chinese media, but Western observers believe it will be used for military applications.