Posted: Mon, May 30 4:07 PM ET (2007 GMT)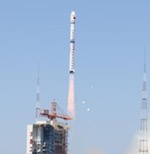 A Long March vehicle placed Chinese and Argentine satellites into orbit May 30. The Long March 4B rocket lifted off from the Taiyuan Satellite Launch Center at 11:17 pm EDT May 29 (0317 GMT, 11:17 am Beijing time May 30) and placed the Ziyuan 3-02 satellite into sun-synchronous orbit. The 2,700-kilogram satellite will serve as a civil remote sensing satellite, providing high-resolution and multispectral images. The rocket also carried two small satellites by Satellogic, an Argentine company, intended to be part of the 25-satellite Aleph-1 constellation for remote sensing.
Posted: Mon, May 30 3:48 PM ET (1948 GMT)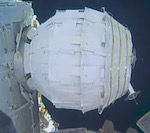 An expandable module on the International Space Station extended to its full size May 28 after an earlier effort failed. Mission controllers, working with astronaut Jeff Williams, spent more than seven hours gradually expanding the Bigelow Expandable Activity Module (BEAM) by manually adding air to the module. The air pressure eventually stretched the module to its full length and diameter, after which air tanks in the module activated to bring the module up to full pressure. An effort May 26 to deploy the module was halted after a couple hours of work when the module did not expand as quickly as expected. NASA and Bigelow Aerospace engineers believe that fraction among layers of fabric that comprise the module may have slowed the module's expansion.
SpaceX launches Thaicom-8, lands first stage
Posted: Mon, May 30 3:38 PM ET (1938 GMT)
A SpaceX Falcon 9 launched the Thaicom-8 communications satellite May 27, and successfully landed the rocket's first stage on a ship for the...
Russia launches navigation satellite
Posted: Mon, May 30 3:26 PM ET (1926 GMT)
A Soyuz rocket successfully launches a Glonass navigation satellite May 29 despite an apparent problem with the rocket's upper stage. The Soyuz-2.1b...
Rosetta finds building blocks of life on comet
Posted: Mon, May 30 3:16 PM ET (1916 GMT)
Planetary scientists say they have found evidence of the building blocks of life on the comet being studied by ESA's Rosetta spacecraft. In a...