Posted: Tue, Sep 16 7:29 AM ET (1129 GMT)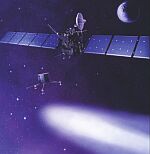 The European Space Agency announced Monday that it has selected a location on the surface of a comet where it will attempt to land a spacecraft in November. ESA said it has selected a location known as site "J" on the surface of comet 67P/Churyumov–Gerasimenko where it will land the Philae spacecraft. Philae is a lander that will be deployed from the Rosetta spacecraft, which arrived at the comet last month. Selecting a landing site for Philae proved to be particularly challenging given that the comet's nucleus has an unusual "rubber duckie" shape with two lobes and rough terrain. Site J is on the smaller, or "head," lobe of the comet, near what appears to be active surface features. The spacecraft's landing attempt is scheduled for November 11. ESA estimates a 70-75% chance of a successful landing.
Posted: Fri, Sep 12 6:25 AM ET (1025 GMT)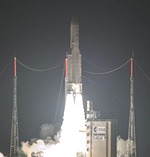 An Ariane 5 rocket placed two communications satellites into orbit Thursday evening. The Ariane 5 ECA lifted off from Kourou, French Guiana, at 6:05 pm EDT (2205 GMT) Thursday and released the Measat-3b and Optus 10 satellites into geostationary transfer orbits about a half-hour later. The launch was delayed by nearly 45 minutes because of issues not directly related to the rocket, including the reconfiguration of a downrange tracking station. Measat-3b, a Eurostar 3000 model spacecraft built by Airbus Space and Defence for Malaysian operator Measat, weighed nearly 5,900 kilograms at launch. The spacecraft carries Ku-, S-, and X-band transponders to provide communications services from 91.5 degrees east in GEO. Optus 10, a Space Systems Loral 1300-series spacecraft built for Australian company Optus, weighed 3,270 kilograms at launch. It will provide Ku-band services from 164 degrees east in GEO.
Curiosity reaches base of Mount Sharp
Posted: Fri, Sep 12 6:13 AM ET (1013 GMT)
NASA announced Thursday that the Mars rover Curiosity has arrived at the base of a Martian mountain that it will soon start to climb. The...
Soyuz returns ISS crew members to Earth
Posted: Thu, Sep 11 7:21 AM ET (1121 GMT)
A Soyuz spacecraft carrying two Russian cosmonauts and one American astronaut landed safely in Kazakhstan early Thursday, ending a nearly six-month mission on the...
China launches imaging satellite
Posted: Tue, Sep 9 9:30 AM ET (1330 GMT)
A Long March rocket launched on Monday a remote sensing satellite likely to be used by the Chinese military. The Long March 4B rocket lifted...