Posted: Sat, Apr 25 9:39 AM ET (1339 GMT)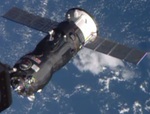 A Russian Progress cargo spacecraft undocked from the International Space Station early Saturday, opening a docking port on the station for a new cargo vehicle. The Progress M-25M spacecraft, designated Progress 57 by NASA, undocked from the Pirs module at 2:41 am EDT (0641 GMT) Saturday. The spacecraft will reenter and burn up in the Earth's atmosphere on Sunday. The undocking sets the stage for a launch at 3:09 am EDT (0709 GMT) Tuesday of a new Progress spacecraft, carrying additional supplies for the station.
Posted: Sat, Apr 25 9:32 AM ET (1332 GMT)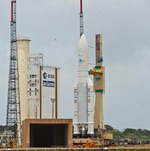 The launch of an Ariane 5 carrying two satellites, already delayed because of one problem, was postponed again on Friday by 48 hours. The Friday launch of the Sicral 2 and Thor 7 satellites was postponed early in the day because an "anomaly occurred on the conditioning equipment of the launcher," the company said in a statement early Friday. The launch has been rescheduled for 3:37 pm EDT (1937 GMT) Sunday. The launch was originally scheduled for April 15 but postponed because of a problem with a connector between the rocket's upper stage and ground equipment.