Posted: Sun, Jul 23 10:16 AM ET (1416 GMT)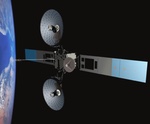 The launch of a NASA communication satellite scheduled for early August has been postponed, NASA said late July 21. In a statement issued late July 21, NASA said the agency, with satellite manufacturer Boeing and launch services provider United Launch Alliance, "are reviewing a new launch date in August" for the Tracking and Data Relay Satellite (TDRS) M spacecraft. NASA said they heed to replace an S-band omnidirectional antenna on the TDRS-M satellite, which was apparently damaged during final closeout work a week earlier. The satellite was scheduled to launch Aug. 3 on an Atlas 5. TDRS-M is the third in the latest series of satellites that provide communications for the International Space Station and other low Earth orbit spacecraft.
Posted: Sun, Jul 23 10:14 AM ET (1414 GMT)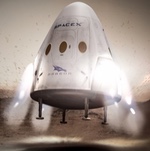 SpaceX is dropping plans for powered landings of its Dragon spacecraft and revising its Mars mission architecture, Elon Musk said July 19. Musk, speaking at the International Space Station Research and Development Conference in Washington, said safety certification issues, as well as a change in preferred landing approaches, led him to abandon plans to have the crewed version of Dragon land using rocket engines and landing legs. Musk said that he will likely provide details on a revised version of the Mars mission plan he unveiled at last year's International Astronautical Congress at this year's conference in Australia. That plan will involve somewhat smaller vehicles that offer a better business case. Musk also lowered expectations for the first Falcon Heavy launch, planned for late this year, saying there is a "lot of risk" associated with the long-delayed vehicle.
Sierra Nevada signs contract for Atlas 5 launches of Dream Chaser
Posted: Sun, Jul 23 10:13 AM ET (1413 GMT)
Sierra Nevada Corporation will launch its first two Dream Chaser cargo vehicles on Atlas 5 rockets. The company said July 19 it signed a contract...
Former XCOR CEO blames company setbacks on lost contract
Posted: Sun, Jul 23 10:12 AM ET (1412 GMT)
The former CEO of XCOR Aerospace told a Senate committee July 18 that a terminated contract caused the company's most recent problems. Jay Gibson...
Luxembourg passes space resources law
Posted: Sun, Jul 23 10:11 AM ET (1411 GMT)
The parliament of Luxembourg has passed a space resources law. The act, approved by the Chamber of Deputies almost unanimously earlier this month, grants companies...