Posted: Wed, Nov 26 7:10 AM ET (1210 GMT)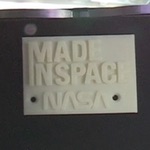 A 3-D printer recently installed on the International Space Station successfully produced its first component this week. The printer, developed by California company Made In Space, produced a rectangular faceplate component, with company and NASA logos, for itself during a test run on the station Monday. The printer was flown to the station on a commercial resupply flight in September. NASA and Made In Space plan to print a variety of items on the printer to test its capabilities before launching a second 3-D printer to the station next year. NASA hopes that 3-D printing will allow astronauts on the ISS or future deep-space missions to print tools, space parts, and other hardware.
Posted: Wed, Nov 26 6:55 AM ET (1155 GMT)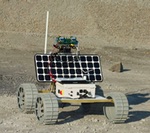 Carnegie Mellon University (CMU) unveiled Monday a lunar rover that it will provide to a team competing in the Google Lunar X PRIZE competition. The rover, named "Andy" after CMU founders Andrew Carnegie and Andrew Mellon, is solar-powered and weighs 33 kilograms, and features stereoscopic cameras. The rover will be a part of a lunar lander being developed by Astrobotic Technology, a company competing in the Google Lunar X PRIZE. The company plans to launch the mission by the end of 2015.
Pegasus wins contract for NASA satellite launch
Posted: Wed, Nov 26 6:38 AM ET (1138 GMT)
NASA awarded a contract to Orbital Sciences Corporation for a Pegasus XL launch of a space science mission in 2017. The Pegasus will launch the...
New crew arrives at ISS
Posted: Mon, Nov 24 5:44 AM ET (1044 GMT)
A Soyuz spacecraft carrying three people launched from Kazakhstan early Monday and arrived at the International Space Station less than six hours later. The Soyuz...
China launches two satellites within 24 hours
Posted: Fri, Nov 21 6:40 AM ET (1140 GMT)
Two Chinese launches placed into orbit Earth observation and disaster monitoring satellites in less than 24 hours on Thursday and Friday. A Long March 2D...