Posted: Sat, Aug 29 11:00 AM ET (1500 GMT)
A forecast of stormy weather has postponed Monday's scheduled launch of a military communications satellite on an Atlas 5 from Florida. The Atlas 5 551 launch of the fourth Mobile User Objective System was scheduled for Monday morning from Cape Canaveral, but mission managers decided Friday night to postpone the launch given a forecast of winds and rain associated with the remnants of Tropical Storm Erika. The launch is now scheduled for no earlier than Wednesday, September 2. The MUOS-4 satellite is the latest in a series of Navy satellites designed to provide secure mobile communications services.
Posted: Sat, Aug 29 10:21 AM ET (1421 GMT)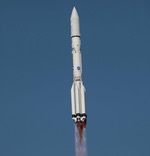 In its first launch since a failed mission in May, a Proton rocket successfully launched a communications satellite for Inmarsat on Friday. The Proton M lifted off form the Baikonur Cosmodrome in Kazakhstan at 7:44 am EDT (1144 GMT, 5:44 pm local time) Friday carrying the Inmarsat-5 F3 satellite. The rocket's Breeze M upper stage released the satellite into a supersynchronous transfer orbit fifteen and a half hours later. The 6,070-kilogram spacecraft, built by Boeing for London-based Inmarsat, will join two others already in orbit for the company's Global Xpress broadband communications system. The launch was the first Proton mission since a launch in mid-May that suffered a failure in its third stage, resulting in the loss of a Mexican communications satellite.
GSLV launches communications satellite
Posted: Fri, Aug 28 8:08 PM ET (0008 GMT)
India's Geosynchronous Satellite Launch Vehicle (GSLV) launched a communications satellite on a mission that the country's space agency demonstrated the performance of the...
China launches reconnaissance satellite
Posted: Fri, Aug 28 7:50 PM ET (2350 GMT)
A Chinese Long March 4 rocket placed an Earth imaging satellite into orbit on Thursday. The Long March 4C rocket lifted off from the Taiyuan...
HTV berths with ISS
Posted: Wed, Aug 26 4:20 PM ET (2020 GMT)
A Japanese cargo vehicle arrived at the International Space Station Monday carrying several tones of supplies and other cargo. The HTV-5 spacecraft, launched August...