Posted: Sat, Jan 24 9:57 AM ET (1457 GMT)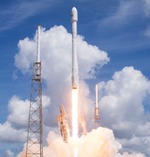 The US Air Force and SpaceX have settled a lawsuit the company filed last year, leaving intact a controversial block buy contract between the service and United Launch Alliance (ULA). SpaceX filed the lawsuit last April, claiming that the Air Force unfairly locked out the company from competing on military launches with its block buy award to ULA. Much of the legal proceedings in the case were under seal, but SpaceX said in the statement that the Air Force agreed to complete SpaceX's certification for such launches in "an efficient and expedient manner." The Air Force also agreed to expand the number of competed launches "while honoring existing contractual obligations," an apparent reference to the block buy contract. The Air Force and SpaceX had been directed earlier in the month by the federal court judge overseeing the case to begin mediation on the dispute.
Posted: Fri, Jan 23 7:10 AM ET (1210 GMT)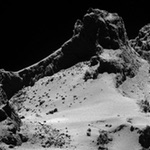 Scientists working on ESA's Rosetta mission have released the initial analysis of data collected by the spacecraft as it studied comet 67P/Churyumov–Gerasimenko. The findings, published in the journal Science and released on Thursday, show that the comet's oddly-shaped nucleus is very porous, with a porosity of 70-80%, suggesting the comet's interior consists of ice-dust "clumps" with spaces between them. Images of the comet's surface also showed dust ripples and "wind-tails" likely created by gas escaping from the comet. Rosetta has imaged about 70% of the comet's surface, with the rest having been in shadow since the spacecraft's arrival in August. Scientists also used Rosetta images to try and identify where the Philae lander ended up, but were not able to spot the small spacecraft in high-resolution images of the region where the believe Philae came to rest.
Russia plans to merge space agency with industry
Posted: Thu, Jan 22 6:47 AM ET (1147 GMT)
Russian president Vladimir Putin approved plans Wednesday to merge the Russian space agency Roscosmos with a new industry conglomerate, in the process removing the current...
Atlas 5 launches military communications satellite
Posted: Wed, Jan 21 6:30 AM ET (1130 GMT)
The most powerful variant of the United Launch Alliance Atlas 5 rocket successfully launched a military communications satellite Tuesday night. The Atlas 5 551 rocket...
Google and Fidelity to invest $1 billion into SpaceX
Posted: Wed, Jan 21 6:18 AM ET (1118 GMT)
SpaceX announced Tuesday that it has raised $1 billion from Internet search giant Google and financial firm Fidelity, funds that will likely support initial development...