Posted: Sat, Apr 20 9:59 AM ET (1359 GMT)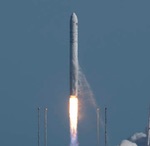 A Cygnus cargo spacecraft has arrived at the International Space Station less than two days after its launch from Virginia. The Cygnus, launched Wednesday on an Antares rocket from Wallops Island, was grappled by the station's robotic arm at 5:28 am EDT (0928 GMT) Friday and was berthed to the station's Unity module two hours later. The spacecraft is carrying nearly three and a half metric tons of experiments, supplies and other cargo for the station, and will remain there for three months before departing for an extended free-flying mission.
Posted: Sat, Apr 20 9:57 AM ET (1357 GMT)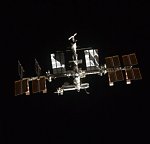 Two NASA astronauts will get extended stays on the ISS, including one that will set a record. NASA announced Wednesday that Christina Koch, who arrived on the station a month ago, will remain there until February 2020. That stay, of about 328 days, will break the record for the longest spaceflight by a woman currently held by Peggy Whitson. Andrew Morgan, scheduled to launch to the station in July, will remain there until next spring, a stay of about 255 days. NASA said the extended stays will give researchers more data on the effects of long-duration spaceflight on the human body. It also gives NASA more time to certify commercial crew vehicles that will transport future crews to the station.
Beresheet lander crash linked to efforts to fix IMU
Posted: Sat, Apr 20 9:55 AM ET (1355 GMT)
Efforts to correct a faulty inertial measurement unit (IMU) may have led to the crash of the Beresheet lander. The IMU malfunctioned during the lander'...
Stratolaunch aircraft flies for the first time
Posted: Sun, Apr 14 10:39 AM ET (1439 GMT)
The giant aircraft built by Stratolaunch as an air-launch platform made its first flight Saturday amid question about the future of the overall effort....
Falcon Heavy launches Arabsat-6A
Posted: Sun, Apr 14 10:37 AM ET (1437 GMT)
A SpaceX Falcon Heavy launched a communications satellite Thursday, with all three booster cores making successful landings. The Falcon Heavy, on its second launch, lifted...