Posted: Sun, Mar 17 8:03 AM ET (1203 GMT)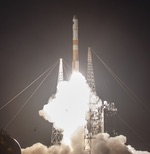 A United Launch Alliance Delta 4 launched a military communications satellite Friday on the penultimate flight of the "single-stick" version of that rocket. The Delta 4 Medium-Plus (5,4) lifted off from Space Launch Complex 37 at Cape Canaveral, Florida, at 8:26 pm EDT (0026 GMT Saturday). The Wideband Global Satcom (WGS) 10 satellite separated from the upper stage in geostationary transfer orbit a little more than a half-hour later. WGS-10 will join a constellation of nine other satellite sin GEO providing military communications services. Only one more medium variant of the Delta 4 will launch, later this year, before that version is retired. The Delta 4 Heavy rocket, with its three first stage cores, will remain in operation for the foreseeable future.
Posted: Sun, Mar 17 8:01 AM ET (1201 GMT)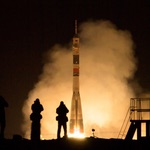 A Soyuz spacecraft delivered three people to the International Space Station Thursday. The Soyuz MS-12 spacecraft launched on schedule at 3:14 pm EDT (1914 GMT) on a Soyuz rocket from the Baikonur Cosmodrome, docking with the station's Rassvet module at 9:01 pm EDT (0101 GMT Friday). The Soyuz brought to the station NASA astronauts Nick Hague and Christina Koch and Roscosmos cosmonaut Alexey Ovchinin, who will remain on the station through at least early this fall.
NASA considering commercial rockets for EM-1
Posted: Sun, Mar 17 7:59 AM ET (1159 GMT)
NASA Administrator Jim Bridenstine said Wednesday the agency is considering flying an Orion spacecraft on commercial rockets instead of the SLS. Bridenstine said at a...
White House proposes $21 billion NASA budget for 2020
Posted: Sun, Mar 17 7:58 AM ET (1158 GMT)
The administration's $21 billion budget proposal for NASA deemphasizes the development of the Space Launch System. The fiscal year 2020 budget requests calls for...
China launches communications satellite
Posted: Sun, Mar 17 7:57 AM ET (1157 GMT)
China launched a communications satellite Marhc 9. The Long March 3B rocket lifted off from the Xichang Satellite Launch Center at 11:28 am EDT (...