Posted: Sat, Sep 16 9:06 AM ET (1306 GMT)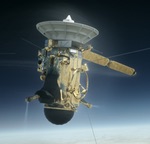 NASA's Cassini mission to Saturn ended Friday as the spacecraft plunged into the atmosphere of Saturn. Spacecraft controllers received the last signals from the spacecraft at 7:55 am EDT (1155 GMT) as expected, as the spacecraft entered the planet's atmosphere and disintegrated. NASA ended the mission in this manner in order to prevent a possible future collision of the spacecraft with the potentially habitable moons Enceladus and Titan. Cassini, launched in 1997, had been in orbit around Saturn since mid-2004, studying the planet, its rings, and its moons. It also deployed the ESA-developed Huygens probe to Titan shortly after arriving at the planet.
Posted: Sat, Sep 16 8:54 AM ET (1254 GMT)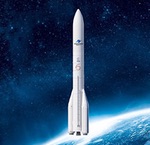 The European Space Agency has signed the first contract for an Ariane 6 launch. ESA has agreed to launch four Galileo navigation satellites on two Ariane 62 rockets, the lighter version of the Ariane 6 with two solid-fuel strap-on boosters. The launches are scheduled for late 2020 and mid-2021, with ESA retaining an option to launch the satellites on a Soyuz instead.
Soyuz launches new crew to the ISS
Posted: Sat, Sep 16 8:49 AM ET (1249 GMT)
Three new crewmembers are on board the International Space Station after a Soyuz flight Tuesday. The Soyuz MS-06 spacecraft lifted off from the Baikonur...
Proton launches Amazonas-5
Posted: Sat, Sep 16 8:43 AM ET (1243 GMT)
A Proton rocket successfully launched a communications satellite Monday. The Proton lifted off from the Baikonur Cosmodrome in Kazakhstan at 3:23 pm EDT (1923...
SES awards seven-satellite contract to Boeing for O3b mPower
Posted: Sat, Sep 16 8:33 AM ET (1233 GMT)
SES awarded a contract to Boeing Monday to build seven satellites for O3b's next-generation system. The O3b mPOWER system will provide "multiple terabits"...