Posted: Sat, Dec 20 12:15 PM ET (1715 GMT)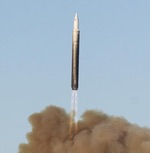 A Russian Strela rocket placed a reconnaissance satellite into orbit on Friday that Russian officials said was for a foreign customer, widely believed to be South Africa. The Strela rocket, a converted SS-19 ICBM, lifted off from the Baikonur Cosmodrome in Kazakhstan at 11:43 pm EST Thursday (0443 GMT Friday) and placed the Kondor-E satellite into orbit. The spacecraft, built by NPO Mashinostroyeniya, carries a radar imaging payload. Russian officials said the satellite was built for another nation, but did not disclose the customer. Media reports indicate that South Africa is the customer under a contract it has with the company dating back to 2006.
Posted: Fri, Dec 19 7:22 AM ET (1222 GMT)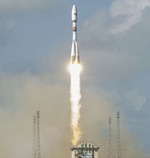 A Soyuz rocket placed four satellites for a communications network into orbit on Thursday. The Soyuz ST-B rocket lifted off from the Guiana Space Center in French Guiana at 1:37 pm EST (3:37 pm local time, 1837 GMT) Thursday carrying a third batch of four satellite for O3b Networks. The four satellites separated from the Fregat upper stage nearly two and a half hours later. The four satellites, built by Thales Alenia Space and weighing 700 kilograms each, will provide broadband Internet services from an orbit of nearly 8,000 kilometers. These satellites join four launched in July and four others launched in mid-2013.
SpaceX postpones ISS cargo mission to January
Posted: Fri, Dec 19 7:05 AM ET (1205 GMT)
SpaceX announced Thursday that it is delaying a launch of a cargo spacecraft to early January to address a technical issue with its Falcon 9...
India launches GSLV Mark 3 on successful test flight
Posted: Thu, Dec 18 7:01 AM ET (1201 GMT)
An upgraded version of India's most powerful launch vehicle successfully carried out a suborbital test flight on Thursday. The GSLV Mark 3 rocket, also...
NASA postpones decision on asteroid mission design
Posted: Thu, Dec 18 6:50 AM ET (1150 GMT)
NASA has pushed back a decision on what option it will choose for its planned Asteroid Redirect Mission (ARM), asking teams at the agency to...