Posted: Thu, Oct 30 9:07 AM ET (1307 GMT)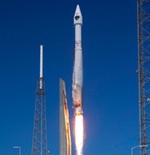 An Atlas 5 rocket, flying its 50th mission, successfully launched a navigation satellite Wednesday afternoon. The Atlas 5 401 lifted off from Cape Canaveral, Florida, at 1:21 pm EDT (1721 GMT) Wednesday, and its Centaur upper stage deployed the GPS 2F-8 into orbit several hours later. The satellite, built by Boeing, is the eighth in the latest series of satellites that provide improved position, navigation, and timing services. The next generation of GPS satellites, called GPS 3, will start launching in late 2016. The launch was the 50th for the Atlas 5 since its introduction in 2002.
Posted: Thu, Oct 30 8:56 AM ET (1256 GMT)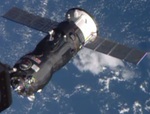 A Soyuz rocket launched a Progress cargo spacecraft early Wednesday that docked with the International Space Station several hours later. A Soyuz-2.1a rocket lifted off from the Baikonur Cosmodrome in Kazakhstan at 3:09 am EDT (0709 GMT) Wednesday carrying the Progress M-25M spacecraft. That spacecraft, making a fast four-orbit approach, docked with the station's Pirs module at 9:08 am EDT (1308 GMT). The spacecraft carried more than 2,600 kilograms of supplies for the ISS. The launch was the first time the newer Soyuz-2 rocket was used for a Progress launch, which allows for additional cargo to be carried to the station.
Antares rocket explodes moments after liftoff
Posted: Wed, Oct 29 8:04 AM ET (1204 GMT)
An Orbital Sciences Corporation Antares rocket exploded seconds after lifting off from Virginia Tuesday evening, destroying the Cygnus cargo spacecraft it was carrying. The Antares...
China launches experimental satellite
Posted: Wed, Oct 29 7:53 AM ET (1153 GMT)
A Long March rocket launched a Chinese satellite Monday that state media says will be used to conduct scientific experiments. The Long March 2C rocket...
Errant boat scrubs Antares launch
Posted: Tue, Oct 28 7:44 AM ET (1144 GMT)
A boat that strayed into restricted waters forced launch controllers to scrub Monday's scheduled launch of a cargo mission to the International Space Station....