Posted: Tue, Sep 30 7:46 AM ET (1146 GMT)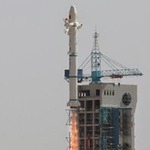 A Long March rocket placed what Chinese officials called an experimental satellite into orbit on Sunday. The Long March 2C rocket lifted off from the Jiuquan Satellite Launch Center at 1:13 am EDT (0513 GMT, 1:13 pm Beijing time) Sunday and placed the Shijian 11-07 satellite into a sun-synchronous orbit. Chinese media said Shijian 11-07 will conduct scientific experiments, although many Western observers believe the spacecraft has some kind of military mission, perhaps as part of a missile early warning system.
Posted: Sun, Sep 28 8:43 AM ET (1243 GMT)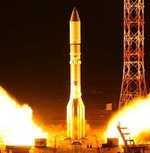 A Russian Proton rocket launched Sunday for the first time since a May failure, placing a government communications satellite into orbit. The Proton-M lifted off at 4:23 pm EDT Saturday (2023 GMT Saturday, 2:23 am local time Sunday) from the Baikonur Cosmodrome in Kazakhstan. It deployed the Luch satellite into orbit nine hours later. The satellite is described by Russian media as a geostationary orbit communications relay satellite from the same series that support Russian operations on the International Space Station, although outside observers believe the satellite will serve military communications applications. The launch was the first for the Proton since the failed May 16 launch of a Russian communications satellite.
Sierra Nevada files protest of CCtCap award
Posted: Sat, Sep 27 9:37 AM ET (1337 GMT)
Sierra Nevada Corporation (SNC), which lost a NASA commercial crew contract earlier this month to two other companies, said Friday it is protesting the contract...
Soyuz ferries new crew to ISS
Posted: Fri, Sep 26 7:58 AM ET (1158 GMT)
A Soyuz spacecraft carrying three new International Space Station crew members launched late Thursday and arrived at the station six hours later despite a problem...
Indian spacecraft enters orbit around Mars
Posted: Wed, Sep 24 7:19 AM ET (1119 GMT)
India's first mission to Mars successfully entered orbit around the Red Planet early Wednesday. The Mars Orbiter Mission (MOM) spacecraft performed a 24-minute...