Posted: Sat, Oct 10 10:11 AM ET (1411 GMT)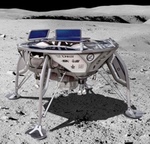 An Israeli team competing for the Google Lunar X PRIZE is the first team to have a launch contract validated by the competition's organizers, a milestone that extends the competition's deadline by two years. SpaceIL plans to launch its lander on a SpaceX Falcon 9 rocket in the second half of 2017 as one of the primary payloads on a dedicated rideshare mission organized by Spaceflight Industries. The team has raised about $40 million of the $50 million it expects to need to carry out the mission, thanks primarily to grants from two foundations. The launch contract means that the competition, which was in danger of expiring at the end of 2015, is now extended through the end of 2017. The other 15 teams still in the competition have until the end of 2016 to submit launch contracts of their own to the X PRIZE Foundation.
Posted: Sat, Oct 10 10:09 AM ET (1409 GMT)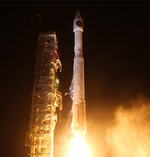 An Atlas 5 successfully launched a classified payload for the National Reconnaissance Office (NRO) Thursday. The Atlas 5 401 rocket lifted off from Vandenberg Air Force Base in California at 8:49 am EDT (1249 GMT) on a mission designated NROL-55. The mission's primary payload was not disclosed, but is widely believed to be two naval ocean reconnaissance satellites. The rocket also carried 13 CubeSats for the NRO and NASA; the spacecraft were developed by a number of universities and organizations.
China launches commercial remote sensing satellites
Posted: Sat, Oct 10 10:08 AM ET (1408 GMT)
A Long March rocket launched China's first commercial Earth imaging satellites Wednesday. The Long March 2D rocket lifted off from the Jiuquan Satellite Launch...