Posted: Wed, Dec 11 5:40 AM ET (1040 GMT)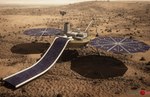 A Dutch venture that seeks to send humans to Mars next decade on one-way missions announced contracts Tuesday with two major aerospace companies to study mission concepts for a robotic orbiter and lander. Lockheed Martin will examine designs for a robotic lander based on the same platform the company used for the Phoenix lander and upcoming InSight lander spacecraft for NASA. That spacecraft would be a technology demonstration mission and include student-designed experiments. Surrey Satellite Technology Limited will study concepts for a spacecraft placed in synchronous orbit around Mars to relay communications from the lander. Both spacecraft would be launched in 2018. Mars One declined to estimate the cost of the mission or how much it's raised, beyond that it is looking into various partnership and sponsorship opportunities. Mars One received thousands of applications from people interested in going to Mars on its first crewed mission in the 2020s, and plans to announce who made it through the first round of the selection process by the end of the year.
Posted: Tue, Dec 10 6:08 AM ET (1108 GMT)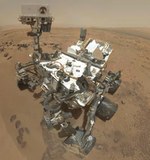 A basin studied by NASA's Curiosity Mars rover likely hosted a lake early in the planet's history that could have supported life, scientists announced Monday. The basin within Gale Crater, called Yellowknife Bay, features sedimentary rocks called mudstones that, on Earth, form in lakebeds, according to scientists who studied data collected by Curiosity there. Those rocks contain minerals that form in freshwater lakes and in conditions that would have supported microbial life. Scientists believe the lake was 50 kilometers long by 5 kilometers wide and lasted for tens of thousands of years, based on the thickness of sediments seen in the area. Scientists emphasized that while the lake featured conditions that were supportive of life, there was no evidence that any life formed there when the lake existed early in the planet's history.
Chinese launch of remote sensing satellite fails
Posted: Tue, Dec 10 5:46 AM ET (1046 GMT)
A Long March rocket failed to put a Sino-Brazilian remote sensing satellite into orbit on Monday after an apparent failure of the rocket's...
EADS space and defense unit to lay off 5,800
Posted: Tue, Dec 10 5:30 AM ET (1030 GMT)
European aerospace company EADS announced Monday that it would lay off 5,800 employees from its defense and space unit. EADS said from its division,...
Proton launches first Inmarsat Global Xpress satellite
Posted: Mon, Dec 9 6:56 AM ET (1156 GMT)
A Proton rocket placed the first in a new generation of mobile communications satellites into orbit on Sunday. The Proton M rocket lifted off at...