Posted: Tue, Oct 21 8:01 AM ET (1201 GMT)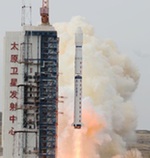 A Long March rocket placed a Chinese Earth imaging satellite into orbit on Monday. The Long March 4C lifted off from the Taiyuan Satellite Launch Center at 2:51 am EDT (0651 GMT, 2:51 pm Beijing time) Monday and placed the Yaogan-22 satellite into orbit. The satellite, according to official Chinese media, will be used for scientific experiments and civil applications, although many Western observers believe that it also, or instead, is used for military reconnaissance. China launched a similar satellite, Yaogan-21, last month.
Posted: Mon, Oct 20 7:48 AM ET (1148 GMT)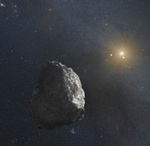 Astronomers have discovered three Kuiper Belt Objects (KBOs) that could be potential targets for the New Horizons mission after it flies past Pluto next year. The KBOs, with estimated sizes of 25 to 55 kilometers across, are within range of New Horizons given its trajectory and fuel supply. A flyby of any of those objects would take place late in the decade, and require NASA approval of an extended mission. The New Horizons mission team had been looking for several for a KBO to visit after the its July 2015 Pluto flyby, but groundbased searches failed to turn up any candidates. An extensive search by Hubble discovered the three KBOs.
X-37B lands in California
Posted: Sat, Oct 18 9:24 AM ET (1324 GMT)
A secretive military spaceplane completed its third, and longest yet, mission Friday with a landing at Vandenberg Air Force Base in California. The X-37B...
MIT professor nominated to become NASA deputy administrator
Posted: Sat, Oct 18 9:07 AM ET (1307 GMT)
The White House announced Thursday that it has nominated an MIT professor with experience in space technology and policy to become the second-in-command...
Ariane launches two Latin American communications satellites
Posted: Sat, Oct 18 7:38 AM ET (1138 GMT)
An Ariane 5 successfully placed in orbit Thursday two communications satellites that will serve Latin America. The Ariane 5 ECA lifted off at 5:43...