Posted: Sat, May 18 10:02 AM ET (1402 GMT)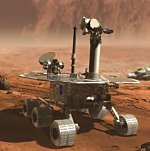 A nine-year-old Mars rover has broken the NASA record for the longest distance driven on the surface of another world. NASA announced this week that the Opportunity Mars rover has now driven 35.76 kilometers, breaking the previous record of 35.744 kilometers set by the Apollo 17 lunar rover in 1972. Opportunity broke the record as it set out on a multi-week trek from the Cape York section of the rim of Endeavour Crater, where the rover had been working since mid-2011, to a point 2.2 kilometers away called Solander Point. The rover, which has been on the Martian surface since January 2004, remains in good condition. The record for the longest distance driven by any vehicle on another world belongs to the Soviet robotic rover Lunokhod 2, which drove 37 kilometers on the Moon in 1973.
Posted: Fri, May 17 9:00 AM ET (1300 GMT)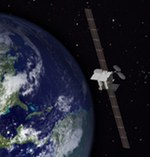 Satellite broadband provider ViaSat announced Thursday that it has selected Boeing to build its next satellite that will provided increases capacity and coverage. Boeing will build ViaSat-2, a 702HP model spacecraft designed to provide broadband data services in the Ka-band. ViaSat said the satellite will serve customers in North America, Central America, and the Caribbean, as well as parts of South America and transportation routes between North America and Europe, providing bandwidth "commensurate" with fiber-to-the-home services. ViaSat-2 is scheduled for launch in mid-2016. The announcement took some in the industry by surprise, as earlier reports indicated that Lockheed Martin was the frontrunner to win the contract to build ViaSat-2.
Reaction wheel fails on Kepler, putting mission's future in question
Posted: Thu, May 16 6:50 AM ET (1050 GMT)
A second reaction wheel on NASA's Kepler spacecraft has failed, forcing agency officials to consider alternative missions for the exoplanet-hunting spacecraft. NASA reported...
Atlas launches GPS satellite
Posted: Thu, May 16 6:37 AM ET (1037 GMT)
For the first time, an Atlas 5 rocket launched a GPS navigation satellite from Florida on Wednesday afternoon. the Atlas 5 401 lifted off from...
Proton launches Eutelsat communications satellite
Posted: Wed, May 15 5:47 AM ET (0947 GMT)
A Russian Proton rocket successfully launched a communications satellite for European operator Eutelsat on Tuesday. The Proton M lifted off from the Baikonur Cosmodrome in...