Posted: Wed, Jul 30 7:48 AM ET (1148 GMT)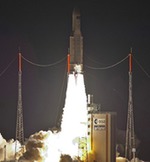 An Ariane 5 successfully launched on Tuesday the last in a planned series of European cargo spacecraft to the International Space Station. The Ariane 5 ES lifted off from Kourou, French Guiana, at 7:47 pm EDT (2347 GMT) Tuesday, placing the Automated Transfer Vehicle (ATV) 5 spacecraft into orbit. The spacecraft, named Georges Lemaitre after the Belgian astrophysicist, will spent two weeks in orbit conducting tests before docking with the ISS on August 12. The spacecraft is carrying 6,600 kilograms of supplies for the ISS. The spacecraft is the last in a series of ATVs that the European Space Agency launched to support its share of ISS logistics. ESA plans to use ATV technology to develop the service module for NASA's Orion spacecraft to cover its share of future ISS cargo services. The launch was also the 60th consecutive successful Ariane launch, a streak that has lasted for more than a decade.
Posted: Tue, Jul 29 5:07 AM ET (0907 GMT)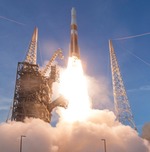 After four scrubs due to ground equipment and weather issues, a Delta 4 rocket successfully placed three military space surveillance satellites into orbit on Monday. The Delta 4 Medium+ (4,2) rocket lifted off from Cape Canaveral, Florida, at 7:28 pm EDT (2328 GMT) Monday. The launch took place more than halfway into a 65-minute launch window to allow weather conditions to improve. Launch attempts on Thursday, Friday, and Saturday of last week were scrubbed by poor weather, and an initial launch attempt Wednesday was postponed by problems with ground support equipment. The mission, designed AFSPC-4, carried into orbit two Geosynchronous Space Situational Awareness Program (GSSAP) satellites and one Automated Navigation and Guidance Experiment for Local Space (ANGELS) satellite. The satellites will support surveillance of other satellites and debris, particularly in geosynchronous orbit. The existence of the GSSAP program was publicly revealed by the Air Force just earlier this year.
Control of Russian research satellite restored
Posted: Sun, Jul 27 2:07 PM ET (1807 GMT)
Ground controllers have regained control of a research satellite that stopped responding to commands shortly after launch, Russian officials said Saturday. The Foton-M 4...
Delta 4 launch rescheduled for Monday
Posted: Sun, Jul 27 1:56 PM ET (1756 GMT)
After three successive launch scrubs due to weather, the Air Force hopes to launch three space surveillance satellites on a Delta 4 on Monday. Thunderstorms...
GAO report warns SLS first launch date could slip
Posted: Fri, Jul 25 8:42 AM ET (1242 GMT)
A report issued this week by the Government Accountability Office (GAO) warned that the first launch of NASA's new heavy-lift rocket could slip...