Posted: Sun, Nov 4 9:00 AM ET (1400 GMT)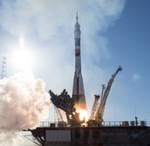 Russian officials said Thursday that they're ready to resume crewed Soyuz launches in December after tracking down the cause of last month's launch failure. Investigators said a side booster failed to separate properly because a sensor was bent by about six degrees when the booster was installed on the rocket. The booster collided with the rocket's second stage, sending it into a tumble and forcing the Soyuz spacecraft to abort. The accident investigation commission says that it has developed new guidelines and checks to ensure that future Soyuz rockets do not run into similar problems. Two Soyuz rockets planned for upcoming launches this month will be reassembled to check for similar defects. If those launches are successful, the next crewed Soyuz launch, of the Soyuz MS-11 spacecraft, is scheduled for December 3.
Posted: Sun, Nov 4 8:59 AM ET (1359 GMT)
China launched another Beidou navigation satellite Thursday. A Long March 3B rocket lifted off from the Xichang Satellite Launch Center at 11:57 am EDT (1557 GMT, 11:57 pm Beijing time) and placed the Beidou satellite into a geostationary transfer orbit. The spacecraft is the 16th Beidou satellite to be launched this year as China builds out the system to provide navigation services globally.
Dawn mission declared over
Posted: Sun, Nov 4 8:58 AM ET (1358 GMT)
NASA announced Thursday that the Dawn mission to the asteroid belt has come to an end. The agency said the spacecraft failed to make contact...
Maxar plans to sell GEO satellite unit
Posted: Sun, Nov 4 8:57 AM ET (1357 GMT)
Maxar confirmed plans Wednesday to sell its GEO satellite business unit. In an earnings call, Maxar CEO Howard Lance said the company's "primary path"...
Kepler mission ends
Posted: Sun, Nov 4 8:56 AM ET (1356 GMT)
NASA's Kepler planet-hunting spacecraft has ended operations after running out of fuel. NASA announced Tuesday that the spacecraft would no longer be able...