Posted: Mon, Jul 17 10:01 AM ET (1401 GMT)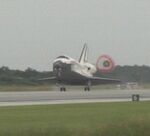 The space shuttle Discovery landed safely at the Kennedy Space Center in Florida Monday morning despite some weather that forced a last-minute change in landing plans. Discovery landed on runway 15 at KSC's Shuttle Landing Facility at 9:14 am EDT (1314 GMT), ending a nearly 13-day mission to the International Space Station. NASA had planned to bring Discovery down on the south end of the main runway, but during the approach elected to have the orbiter swing around to the north end after some thunderstorms quickly developed in the shuttle's original path. The next shuttle mission, the flight of Atlantis on STS-115, is scheduled for a launch window that opens in late August.
Posted: Sat, Jul 15 9:39 AM ET (1339 GMT)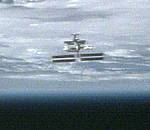 The space shuttle Discovery undocked from the International Space Station Saturday morning as the STS-121 crew prepares for their return to Earth. Discovery undocked from the station's at 6:08 am EDT (1008 GMT), nearly nine days after arriving there. Shortly after undocking the shuttle crew will perform an inspection of portions of the orbiter to check for any damage to key portions of the shuttle's thermal protection system before departing from the vicinity of the station for good. Discovery is scheduled to land at the Kennedy Space Center in Florida Monday at 9:14 am EDT (1314 GMT). Shuttle managers said that a small leak in one of Discovery's three auxiliary power units (APUs), which may be either nitrogen or hydrazine, should not adversely affect the landing.
EVA tests shuttle repair techniques
Posted: Thu, Jul 13 7:19 AM ET (1119 GMT)
Two astronauts spent seven hours outside the space shuttle and International Space Station Wednesday, testing techniques to repair damage to a shuttle's thermal protection...
Spacewalkers complete ISS repairs
Posted: Tue, Jul 11 6:58 AM ET (1058 GMT)
Two astronauts overcame some minor problems to complete critical repairs to a "railcar" on the International Space Station on Monday. STS-121 astronauts Piers Sellers...
Shuttle cleared for reentry
Posted: Mon, Jul 10 7:02 AM ET (1102 GMT)
Shuttle managers have concluded that the shuttle Discovery doesn't require any repairs to its thermal protection system before returning to Earth at the end...