Posted: Thu, Nov 1, 2001, 11:53 AM ET (1653 GMT)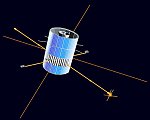 NASA shut down the Interplanetary Monitoring Platform 8 (IMP 8) spacecraft October 28 after a 28-year mission. The spacecraft, also known as Explorer 50, was launched October 25, 1973 and placed into a circular orbit around the Earth at a little over half the distance of the Moon. Instruments on the spacecraft studied the solar wind and cosmic rays, generating data later used in 1,000 papers. NASA decided to shut down IMP 8 after its magnetometer failed last year, citing the need to spend money on more effective missions.
NASA requested $400 million from the Bush Administraton for enhanced security in the wake of the September 11 terrorist attacks, Florida Today reported Wednesday. NASA also wanted $200 million more for enhanced computer and telephone systems, which encountered serious problems in the hours after the terrorist attacks. The Office of Management and Budget only sought $93.1 million from those requests from Congress as part of a $40-billion emergency spending bill.
NASA administrator Dan Goldin was given the French Legion of Honor award in a ceremony in Washington Tuesday. The French government gave Goldin the award for improving cooperation between the US and France on space ventures.