Posted: Fri, Feb 1, 2002, 10:15 AM ET (1515 GMT)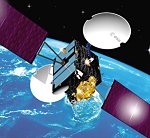 Spacecraft controllers will initiate a series of maneuvers February 5 designed to put ESA's Artemis spacecraft into geostationary orbit. Artemis was launched on an Ariane 5 in July 2001 but was placed in a lower-than-planned orbit because of a problem with the Ariane's upper stage. Artemis has been using its on-board ion thrusters to gradually raise its orbit; the final series of maneuvers, delayed a week to correct software problems, will take six months to complete. Although the maneuvers will use a significant fraction of the spacecraft's propellant, ESA believes Artemis will have enough to operate in geosynchronous orbit for at least five years.
A building at the Kennedy Space Center was closed for several hours Wednesday after a suspicious brown powder was found on six envelopes, Florida Today reported. The powder, on a number of envelopes sent to KSC employees from a New Jersey company, was found to be nontoxic, although investigators were not able to determine the composition of the powder or how it got on the envelopes.
XM Satellite Radio has corrected a technical glitch that prevented some listeners from receiving some channels Wednesday. SkyREPORT.com reported that the problem was with "back-office equipment" at XM, and not a problem with XM's two satellites. While some users reported outages lasting minutes, XM officials said the affected channels were off the air for only a few seconds.