Posted: Thu, Feb 7, 2002, 10:49 AM ET (1549 GMT)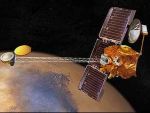 NASA's Mars Odyssey spacecraft, in orbit around the Red Planet, successfully deployed its main antenna this week, JPL reported Wednesday. The spacecraft extended a short boom with the 1.3-meter antenna on the end of it Tuesday morning. The extension is the next step towards beginning regular scientific operations, scheduled for later this month.
SPACEHAB reported a profit for its fiscal 2002 second quarter Tuesday, the first such profit in several quarters for the commercial space firm. The company said it recorded earnings of $660,000 for the quarter ending December 31, 2001, but still has a $2.2 million loss for the year to date. Company officials said a restructuring and recovery plan implemented in early 2001 is the main reason for the profit.
The new President of the Space Transportation Association called on the President and Congress Wednesday to centralize management of the nationís space efforts. Frank Sietzen, in a speech at an FAA conference in Arlington, Virginia, said the President should create a body like the old National Space Council and elevate the position of NASA administrator to a Cabinet-level post. The STA would also like Congress to reform the existing committee structure it has to study space issues, consolidating work into a smaller number of committees in the House and Senate.