Posted: Wed, Feb 27, 2002, 7:55 AM ET (1255 GMT)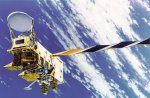 TRW has shipped the Aqua spacecraft to Vandenberg Air Force Base for launch in April, the company announced Monday. Aqua, formerly known as Earth Observing System-PM, will study the effects of the atmosphere and oceans on the Earth's climate during its six-year mission. Aqua is based on TRW's T-300 spacecraft family.
Russian officials confirmed Tuesday that the launch of a Progress resupply mission to the International Space Station has been delayed until the second half of March. The Progress 7P, also known as M1-8, launch was scheduled for mid, and then late, February, but has been delayed because of unspecified technical problems. No date has been announced for the launch, although Spaceflight Now lists the launch date as no earlier than March 21.
Former senator and astronaut John Glenn was named Tuesday to the NASA Advisory Council. Glenn was among the six new appointees to the panel, which meets several times a year to provide NASA with advice to the agency on key issues.