Posted: Sun, Sep 25 8:56 AM ET (1256 GMT)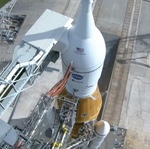 NASA announced Saturday it was waving off the next launch attempt for the Artemis 1 mission because of an impending tropical storm. NASA said it would not proceed with the Sept. 27 launch because of the potential of Tropical Storm Ian, forecast to strengthen into a major hurricane, to hit Florida in the coming days. Mission managers, though, held off on a decision to roll back the vehicle from the pad to the VAB as they monitor the track of the storm. If the vehicle remains on the pad, they could attempt a launch Oct. 2, while a rollback would delay the launch at least until late October. Officials said Friday that they they were confident they had resolved liquid hydrogen leak problems, while also securing a waiver for the flight termination system on the SLS from the Eastern Range.
Posted: Sun, Sep 25 8:49 AM ET (1249 GMT)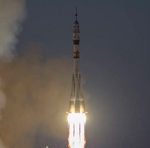 A Soyuz spacecraft delivered two Russians and one American to the International Space Station Wednesday. A Soyuz rocket lifted off from the Baikonur Cosmodrome at 9:54 am EDT (1354 GMT), placing the Soyuz MS-22 spacecraft into orbit. The spacecraft performed a two-orbit approach to the station, docking with the Rassvet module at 1:06 pm EDT (1706 GMT). The spacecraft brought to the station Roscosmos cosmonauts Sergey Prokopyev and Dmitry Petelin, along with NASA astronaut Frank Rubio, for a six-month stay. Rubio is the first to fly under a seat barter agreement between NASA and Roscosmos, with cosmonaut Anna Kikina flying on a Crew Dragon mission next month.
Pentagon to phase out use of GEO missile warning satellites
Posted: Sun, Sep 25 8:46 AM ET (1246 GMT)
The Defense Department plans to stop buying geostationary orbit missile warning satellites as it shifts to constellations in lower orbits. Space Development Agency (SDA) Director...
NASA studying JWST instrument glitch
Posted: Sun, Sep 25 8:45 AM ET (1245 GMT)
NASA officials Wednesday played down an issue that has taken part of an instrument on the James Webb Space Telescope offline. NASA said Tuesday that...
SpinLaunch raises $71 million
Posted: Sun, Sep 25 8:44 AM ET (1244 GMT)
SpinLaunch raised $71 million to continue development of its alternative launch system. ATW Partners led the Series B funding round announced Tuesday, with a number...