Posted: Fri, Nov 27 11:07 AM ET (1607 GMT)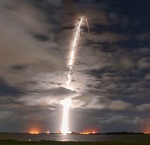 SpaceX launched another set of Starlink satellites Tuesday night on the 100th flight of the Falcon 9. The Falcon 9 lifted off from Cape Canaveral, Florida, at 9:13 pm EST (0213 GMT Wednesday) and deployed the 60 satellites 15 minutes later. The rocket's first stage, making a record-setting seventh launch, landed on a droneship in the Atlantic. This flight marked the 100th launch of the Falcon 9, including one launch failure in 2015. With the launch, SpaceX now has nearly 900 Starlink satellites in orbit and plans to expand a beta test of its broadband internet service early next year. SpaceX also recently requested permission from the FCC to launch a set of Starlink satellites into a polar orbit to provide service in Alaska as the FCC reviews a broader modification of the Starlink constellation the company filed with the FCC earlier this year.
Posted: Fri, Nov 27 11:03 AM ET (1603 GMT)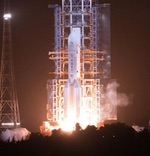 China launched Monday a mission to land on the moon and collect samples for return to the Earth. The Long March 5 lifted off from the Wenchang Satellite Launch Center at 3:30 pm EST (2030 GMT), and Chinese officials said the Chang'e-5 spacecraft had deployed from its upper stage on its planned trajectory about 75 minutes later. The spacecraft will land at Mons Rümker on the moon, collect about two kilograms of samples and return to Earth, landing in China in mid-December. If successful, China will be only the third nation, after the United States and former Soviet Union, to bring back lunar samples.
Relativity Space raises $500 million
Posted: Fri, Nov 27 10:58 AM ET (1558 GMT)
Small launch vehicle startup Relativity Space has raised $500 million. The company announced Monday it closed the Series D round, led by hedge fund Tiger...
Falcon 9 launches Sentinel-6 ocean science satellite
Posted: Fri, Nov 27 10:56 AM ET (1556 GMT)
A Falcon 9 launched an ocean science satellite for the U.S. and Europe Saturday. The Falcon 9 lifted off from Vandenberg Air Force Base...
OneWeb exits Chapter 11 bankruptcy
Posted: Fri, Nov 27 10:48 AM ET (1548 GMT)
OneWeb emerged from Chapter 11 bankruptcy Nov. 20 with a new CEO. The company announced it had completed all the paperwork to formally exit Chapter...