Posted: Sun, Sep 20 10:01 AM ET (1401 GMT)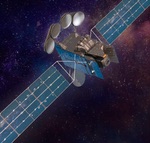 Intelsat ordered an additional C-band communications satellite from Maxar as it finalized plans to deploy a set of replacement satellites. Maxar will build the Intelsat-37 communications satellite, based on its 1300-class platform, in an order announced Thursday. Intelsat-37 is the last of 13 satellites ordered between Intelsat and SES to consolidate North American broadcast customers into a smaller swath of spectrum, freeing up C-band spectrum for terrestrial 5G services. Intelsat also announced contracts with Arianespace and SpaceX to launch the seven C-band satellites it has ordered.
Posted: Sun, Sep 20 9:56 AM ET (1356 GMT)
Northrop Grumman has won a $298 million contract to develop a new jam-resistant military communications satellite. The Evolved Strategic Satcom program is intended to provide survivable, secure and protected communications for high-priority military operations and national command authorities, continuing services provided by the Advanced Extremely High Frequency (AEHF) satellite system. The satellite to be built under the contract awarded Wednesday by the Space and Missile Systems Center will be completed by May 2025.
OHB signs contracts for ESA planetary defense mission
Posted: Sun, Sep 20 9:53 AM ET (1353 GMT)
OHB will build a spacecraft for an ESA planetary defense mission. The German company signed a $153 million contract with ESA Tuesday to build the...
Sea-launched Long March 11 places nine satellites in orbit
Posted: Sun, Sep 20 9:50 AM ET (1350 GMT)
China performed a sea-based launch of nine small satellites Monday night. The Long March 11 rocket lifted off from a ship in the Yellow...
Scientists detect phosphine, a potential biosignature, in atmosphere of Venus
Posted: Sun, Sep 20 9:47 AM ET (1347 GMT)
The discovery of a potential biomarker in the atmosphere of Venus could boost the prospects of future missions there. Scientists announced Monday they used groundbased...