Posted: Sun, Sep 12 9:40 AM ET (1340 GMT)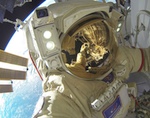 Two Russian cosmonauts spent seven and a half hours outside the International Space Station Thursday. Oleg Novitskiy and Pyotr Dubrov conducted their second spacewalk in less than a week, continuing work outfitting the new Nauka module. The two installed data cables and experiments, and also inspected an antenna on a Progress cargo spacecraft for any signs of damage.
Posted: Sun, Sep 12 9:38 AM ET (1338 GMT)
China launched a GEO communications satellite Thursday. A Long March 3B lifted off from the Xichang Satellite Launch Center, southwest China, at 7:50 am EDT (1150 GMT) and placed the ChinaSat-9B satellite into orbit. ChinaSat-9B will provide live broadcast services, support 4K and 8K high-definition video program transmission and provide high-quality live broadcast transmission services.
Russia launches reconnaissance satellite
Posted: Sun, Sep 12 9:37 AM ET (1337 GMT)
Russia launched a reconnaissance satellite Thursday. A Soyuz-2.1v rocket lifted off from the Plesetsk Cosmodrome in northern Russia at 3:59 pm EDT (...
SpaceX to launch next Thuraya satellite
Posted: Sun, Sep 12 9:36 AM ET (1336 GMT)
SpaceX will launch the next Thuraya satellite for Yahsat, the companies announced Wednesday. The Thuraya 4-NGS satellite, being built by Airbus, will launch on...
Rocket Lab wins launch contract for IoT constellation
Posted: Sun, Sep 12 9:33 AM ET (1333 GMT)
Rocket Lab won a multi-launch contract for a French IoT satellite constellation. Kinéis will launch 25 satellites on five Electron launches starting in...