Posted: Sat, Jan 2 12:40 PM ET (1740 GMT)
Voyager Space Holdings is acquiring a majority stake in commercial space station company Nanoracks. Terms of the deal, announced Dec. 23, were not disclosed, but Nanoracks said that Voyager will provide capital both in the acquisition and in the future to support its future plans. Nanoracks flies payloads to the International Space Station, including satellites for deployment there, and recently installed a commercial airlock on the station. The company has long-term plans to develop commercial space platforms using repurposed upper stages. The acquisition is the fourth by Voyager, a holding company that buys space companies to provide them with a long-term source of capital and shared services.
Posted: Sat, Jan 2 12:36 PM ET (1736 GMT)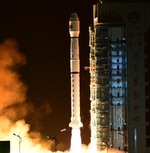 China launched a reconnaissance satellite Dec. 27. A Long March 4C rocket lifted off from the Jiuquan Satellite Launch Center at 10:44 am EST (1544 GMT) and placed the Yaogan-33 satellite into orbit. Chinese media disclosed few details about the payload, but outside observers believe it has a synthetic aperture radar imaging payload. The rocket also carried a small scientific satellite.
SLS upper stage passes review
Posted: Sat, Jan 2 12:33 PM ET (1733 GMT)
An upgraded upper stage for the Space Launch System has passed a key review. Boeing said last week that the Exploration Upper Stage (EUS) completed...
NASA gets $23.3 billion in 2021 omnibus spending bill
Posted: Sat, Jan 2 12:29 PM ET (1729 GMT)
An omnibus spending bill passed Monday will give NASA nearly $23.3 billion in fiscal year 2021, but cuts funding in some key programs. The...
China launches first Long March 8
Posted: Sat, Jan 2 12:20 PM ET (1720 GMT)
China successfully launched its first Long March 8 rocket Dec. 21. The medium-lift rocket launched from the Wenchang spaceport on the island of Hainan...