Posted: Sat, Jul 31 10:22 AM ET (1422 GMT)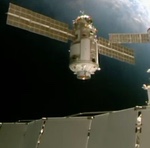 A Russian module that docked with the International Space Station Thursday morning started firing its thrusters hours later, causing the station to briefly lose attitude control. The Multipurpose Laboratory Module, or Nauka, docked with the station's Zvezda module at 9:29 am EDT (1329 GMT). About three hours later, though, the module's thrusters started firing, causing the station's attitude to drift. Thrusters on Zvezda and a Progress cargo spacecraft fired in response, and Russian controllers were able to turn off the thrusters on Nauka and restore attitude control within an hour. There was no evidence of any damage to the station, and the cause of the thruster firing remains under investigation. NASA postponed the launch of Boeing's CST-100 Starliner commercial crew vehicle, which was scheduled for this afternoon, to no earlier than Tuesday to give the space station time to recover from the incident.
Posted: Sat, Jul 31 10:17 AM ET (1417 GMT)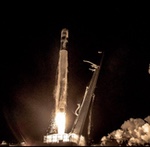 Rocket Lab placed a satellite in orbit for the Space Force early Thursday on the first Electron launch since a May failure. The Electron lifted off at 2:00 am EDT (0600 GMT) from Launch Complex 1 in New Zealand, deploying the Monolith satellite into low Earth orbit 52 minutes later. The launch was the first since an Electron failure in mid-May linked to a previously undetected issue with the igniter system for the rocket's second stage engine. Monolith, developed by the Air Force Research Lab, will test the ability of a smallsat to use a large deployable sensor. The mission was to launch from Rocket Lab's new launch site at Wallops Island, Virginia, but continued delays by NASA to certify an autonomous flight termination system for the rocket forced the company to shift the launch to New Zealand.
China launches imaging satellite
Posted: Sat, Jul 31 10:11 AM ET (1411 GMT)
China launched an imaging satellite Thursday. A Long March 2D rocket lifted off from the Jiuquan Satellite Launch Center at 12:01 am EDT (0401...
Isar Aerospace raises $75 million
Posted: Sat, Jul 31 10:10 AM ET (1410 GMT)
German small launch vehicle startup Isar Aerospace has raised an additional $75 million. The company raised the funding, an extension of an earlier Series B...
Blue Origin offers NASA incentives for second HLS award
Posted: Sat, Jul 31 10:07 AM ET (1407 GMT)
Blue Origin founder Jeff Bezos offered NASA billions of dollars in incentives when the agency provided his company with a second lunar lander award. In...