Posted: Sat, Nov 25 8:30 AM ET (1330 GMT)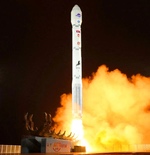 North Korea appears to have successfully placed a reconnaissance satellite into orbit after two failed attempts earlier this year. A Chollima-1 rocket lifted off from the Tongchang-ri launch site at 8:42 am EST (1342 GMT) Tuesday and placed into orbit a reconnaissance satellite called Malligyong-1, according to North Korea's state-run news service. South Korean and U.S. officials later confirmed that the launch was successful, but had no information about the health of the satellite. North Korea attempted two launches in May and August, also carrying spysats, but both failed to reach orbit. South Korean officials believe this launch was successful because of technical assistance from Russia after North Korea agreed to sell it munitions. Japan, South Korea and the U.S. all condemned the launch for violating United Nations resolutions banning space launches by North Korea because they could be used to advance development of long-range missiles.
Posted: Sat, Nov 25 8:25 AM ET (1325 GMT)
SpaceX launched another set of Starlink satellites early Wednesday. A Falcon 9 lifted off from Cape Canaveral at 2:47 am EST (0747 GMT) and placed 23 Starlink satellites into orbit. The launch was delayed by nearly four hours, but SpaceX did not disclose a reason for the delay.
MDA wins contract for satellite constellation
Posted: Sat, Nov 25 8:24 AM ET (1324 GMT)
Canada's MDA has won a $131 million contract from an unidentified customer for a satellite constellation. MDA said the the contract will allow the...
SpaceX launches second Starship/Super Heavy
Posted: Thu, Nov 23 8:06 AM ET (1306 GMT)
SpaceX launched the second Starship/Super Heavy test flight Saturday, achieving several key milestones while falling short of full success. The vehicle lifted off from...
SpaceX launches Starlink satellites
Posted: Thu, Nov 23 8:00 AM ET (1300 GMT)
Besides launching Starship, SpaceX conducted two Falcon 9 Starlink launches over the weekend. One Falcon 9 lifted off from Cape Canaveral, Florida, at 12:05...