Posted: Fri, Feb 26 10:12 AM ET (1512 GMT)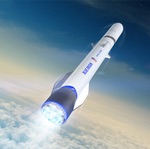 Blue Origin announced Thursday it is delaying the first launch of its New Glenn rocket to late 2022. The company said the revised development schedule, which calls for that inaugural launch in the fourth quarter of 2022, came after the company lost a Pentagon launch contract last year to SpaceX and ULA. That cost the company up to $3 billion in lost launch revenue, as well as half of a $500 million award from the Air Force in 2018 to support vehicle development. The company is continuing to press ahead on the vehicle under that revised schedule, as well as complete its launch pad at Cape Canaveral.
Posted: Fri, Feb 26 10:08 AM ET (1508 GMT)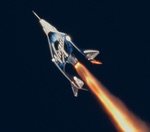 Virgin Galactic won't start regularly flying space tourists until early next year because of delays in its test program. The company said Thursday that it has postponed its next SpaceShipTwo test flight to May to correct electromagnetic interference issues. That interference was the likely cause of an aborted test flight in December. Virgin plans to perform two more test flights in the summer, and then a commercial flight carrying payloads and personnel for the Italian Air Force. Virgin expects to begin test flights of its next suborbital vehicle, called SpaceShip III, this summer. However, the company will pause tests of both the current and new vehicles late this year to perform work on the WhiteKnightTwo carrier aircraft, pushing out the start of tourist flights to early 2022.
China launches ocean reconnaissance satellites
Posted: Fri, Feb 26 10:05 AM ET (1505 GMT)
China launched a trio of ocean reconnaissance satellites Wednesday. The Long March 4C lifted off from Jiuquan Satellite Launch Center at 9:22 pm EST...
NASA postpones second Green Run test
Posted: Fri, Feb 26 10:01 AM ET (1501 GMT)
NASA announced Monday it is postponing a second static-fire test of the Space Launch System core stage that had been scheduled for this week....
Cygnus cargo spacecraft launched to ISS
Posted: Fri, Feb 26 9:59 AM ET (1459 GMT)
A Cygnus cargo spacecraft arrived at the International Space Station Monday after its launch Saturday. A Northrop Grumman Antares rocket lifted off at 12:36...