Posted: Sun, Apr 18 11:30 AM ET (1530 GMT)
Sierra Nevada Corporation (SNC) plans to spin off its space division into an independent business. The company said its Space Systems division will be transformed into a separate company, Sierra Space, although remaining a subsidiary of SNC. The company explained the move as a way of better capturing projected growth in the space industry, including applications for its Dream Chaser spaceplane and an inflatable habitation module called LIFE. SNC said revenues from its space business, currently $400 million a year, could grow to as much as $4 billion in 5 to 10 years. The company said details about the creation of Sierra Space have yet to be worked out, but that the process will take several months to complete.
Posted: Sun, Apr 18 11:23 AM ET (1523 GMT)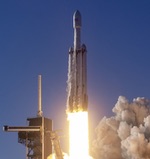 Astrobotic has selected SpaceX's Falcon Heavy to launch a lunar lander mission carrying a NASA rover. Astrobotic announced Tuesday that it signed a contract with SpaceX to launch its Griffin lunar lander in late 2023. Griffin will carry NASA's Volatiles Investigating Polar Exploration Rover (VIPER) mission to the south pole of the moon to prospect for water ice. Astrobotic won a NASA task order through the agency's Commercial Lunar Payload Services program last year to transport VIPER to the moon. The companies did not disclose the value of the launch contract.
MEV-2 docks with Intelsat satellite
Posted: Sun, Apr 18 11:17 AM ET (1517 GMT)
Northrop Grumman's satellite life extension spacecraft docked with an Intelsat communications satellite Monday. Northrop's Mission Extension Vehicle (MEV) 2 docked with the Intelsat...
White House proposes $24.7 billion budget for NASA in 2022
Posted: Sun, Apr 18 11:08 AM ET (1508 GMT)
The White House is proposing a budget increase of more than 6% for NASA in fiscal year 2022. A budget outline released by the Biden...
UAE hires two new astronauts
Posted: Sun, Apr 18 11:04 AM ET (1504 GMT)
The United Arab Emirates doubled the size of its astronaut corps with the selection Saturday of two new astronauts. The UAE announced it selected Nora...