Posted: Sat, May 27 11:00 AM ET (1500 GMT)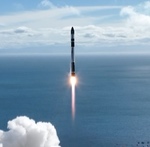 Rocket Lab launched a second pair of NASA storm-monitoring cubesats overnight. The company's Electron rocket lifted off from Launch Complex 1 in New Zealand at 11:46 pm EDT Thursday (0346 GMT Friday) and deployed the two TROPICS cubesats into their planned orbit. The satellites join two others launched on another Electron earlier this month, forming a four-satellite constellation to track the development of tropical storms. The launch, the 37th for the Electron, took place almost exactly six years after the first Electron launch.
Posted: Sat, May 27 10:56 AM ET (1456 GMT)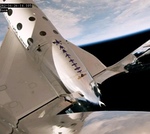 Virgin Galactic's SpaceShipTwo made its first suborbital spaceflight in nearly two years Thursday. The vehicle, named VSS Unity, launched from its VMS Eve carrier aircraft at 12:23 pm EDT (1623 GMT), reaching a peak altitude of 87.2 kilometers before gliding back to a runway landing at Spaceport America in New Mexico. There were two pilots and four company mission specialists on the flight, the first to go to space since a July 2021 mission that carried company founder Richard Branson. Unlike other commercial spaceflight companies, Virgin Galactic did not webcast the launch, providing only a trickle of social media text updates. This was the last test flight planned for SpaceShipTwo before beginning commercial service with a flight for the Italian Air Force scheduled for as soon as late June.
South Korea launches eight satellites on KSLV-2
Posted: Sat, May 27 10:52 AM ET (1452 GMT)
South Korea successfully launched its KSLV-2 rocket carrying eight satellites early Thursday. The rocket lifted off from the Naro Space Center at 5:24...
Virgin Orbit to sell assets and shut down
Posted: Fri, May 26 10:49 PM ET (0249 GMT)
Virgin Orbit will cease operations after selling most of its assets to three aerospace companies. Virgin Orbit said Tuesday that the companies made the winning...
Progress cargo ship launched to ISS
Posted: Fri, May 26 10:45 PM ET (0245 GMT)
A Progress cargo spacecraft launched to the International Space Station. A Soyuz-2.1a rocket lifted off from the Baikonur Cosmodrome at 8:56 a....