Posted: Sat, Sep 25 2:42 PM ET (1842 GMT)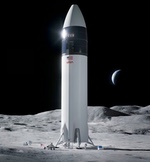 A court filing released Wednesday outlines Blue Origin's lawsuit over NASA's Human Landing System (HLS) award to SpaceX. In the 59-page complaint, Blue Origin argues that SpaceX's proposal was deficient since it did not include all the required flight readiness reviews for launches of elements of its Starship lunar lander. That made the proposal "unawardable" under the rules of the procurement, Blue Origin claims. When NASA entered into negotiations to correct that, as well as adjust pricing, the agency should have also opened discussions with other bidders to allow them to revise their proposals, the complaint charges. The Court of Federal Claims released the complaint, with significant redactions, ahead of hearings next month, with a decision expected by Nov. 1. NASA halted work on its HLS award to SpaceX while the court hears the case.
Posted: Sat, Sep 25 2:40 PM ET (1840 GMT)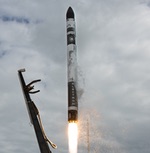 Rocket Lab will launch an Astroscale inspection satellite. Rocket Lab announced this week it will launch the Active Debris Removal by Astroscale-Japan (ADRAS-J) spacecraft on an Electron in 2023. ADRAS-J will rendezvous with an upper stage of a Japanese rocket left in low Earth orbit, inspecting it as a first step for a later mission to deorbit the stage. The launch contract is the second that Rocket Lab has announced this month.
NASA splits human spaceflight directorate into two
Posted: Sat, Sep 25 2:37 PM ET (1837 GMT)
NASA announced Tuesday it's dividing its directorate responsible for human spaceflight into two organizations. The Human Exploration and Operations Mission Directorate (HEOMD) will be...
China launches cargo ship to space station
Posted: Sat, Sep 25 2:35 PM ET (1835 GMT)
China launched a robotic cargo ship to its fledgling space station Monday carrying supplies for a new crew expected to arrive in mid-October. A...
Inspiration4 splashes down
Posted: Sat, Sep 25 2:32 PM ET (1832 GMT)
The first private crewed mission by SpaceX came to a successful end Sept. 18. The Crew Dragon spacecraft Resilience splashed down in the Atlantic Ocean...