Posted: Sat, Jan 15 10:58 AM ET (1558 GMT)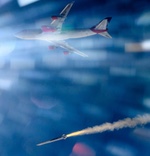 Virgin Orbit placed seven cubesats into orbit Thursday on its third operational LauncherOne mission. The company's 747 carrier aircraft took off from Mojave Air and Space Port in California at 4:39 pm EST (2139 GMT), releasing the LauncherOne rocket a little more than an hour later. The company later said all seven payloads were successfully deployed into a mid-inclination orbit. The launch carried satellites for the Defense Department's Space Test Program, Polish smallsat developer SatRevolution and Spire. This was the first of six launches Virgin Orbit has scheduled for this year, including two launches from Spaceport Cornwall in England.
Posted: Sat, Jan 15 10:56 AM ET (1556 GMT)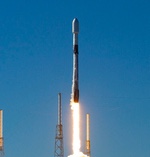 A SpaceX Falcon 9 launched more than 100 smallsats on a rideshare mission Thursday. The Falcon 9 lifted off from Cape Canaveral, Florida, at 10:25 am EST (1525 GMT) on the Transporter-3 mission. The rocket's upper stage deployed its payload of 105 spacecraft into a sun-synchronous orbit. Several companies that operate satellite constellations used the launch to replenish and augment their fleets, with some first-time customers on the launch as well. The flight was SpaceX's third smallsat dedicated rideshare mission, after two launches last year. This was also the first of as many as four such launches planned for 2022.
Indian government selects new head of ISRO
Posted: Sat, Jan 15 10:43 AM ET (1543 GMT)
The Indian government has selected a new head of its space agency, ISRO. S. Somanath will take over as chairman of ISRO on Friday, succeeding...
Intelsat orders two GEO satellites from Thales Alenia Space
Posted: Sat, Jan 15 10:41 AM ET (1541 GMT)
Intelsat has ordered two new GEO satellites from Thales Alenia Space. The Intelsat 41 and Intelsat 44 satellites, scheduled to enter service in 2025, will...
NASA completes JWST deployments
Posted: Sat, Jan 15 10:38 AM ET (1538 GMT)
NASA's James Webb Space Telescope is now fully deployed. The second of two "wings" of the primary mirror locked into position Jan. 8, completing...