Posted: Wed, Mar 22 9:25 PM ET (0125 GMT)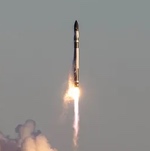 Rocket Lab launched a pair of Capella Space radar satellites March 16. An Electron rocket lifted off from Wallops Island, Virginia, at 6:38 pm EDT (2238 GMT) and deployed the two Capella satellites into orbit an hour later. The launch was the second this year by Rocket Lab and the second Electron mission from Virginia. Rocket Lab says it's planning up to 15 launches this year and has "a strong manifest with increasing demand" for the small launch vehicle.
Posted: Wed, Mar 22 9:21 PM ET (0121 GMT)
China launched a classified optical imaging satellite to geostationary orbit March 17. A Long March 3B rocket lifted off from the Xichang Satellite Launch Center at 4:33 am EDT (0833 GMT) carrying the Gaofen-13 (02) satellite, which was deployed into a geostationary transfer orbit. China Aerospace Science and Technology Corp. provided no details of the satellite's capabilities, stating only that the optical remote sensing satellite is a high-orbit, high-resolution Earth observation technology satellite. That payload was disclosed only after the launch after earlier speculation that the rocket would carry a navigation or communications satellite.
China launches experimental satellite
Posted: Wed, Mar 22 9:20 PM ET (0120 GMT)
China launched a new classified satellite March 15 as part of an apparent space systems development test program. A Long March 11 rocket lifted off...
Virgin Orbit pauses operations because of funding problems
Posted: Wed, Mar 22 9:18 PM ET (0118 GMT)
Virgin Orbit announced late March 15 it was temporarily halting operations and furloughing staff. The small launch vehicle company announced a "company-wide operational pause"...
SpaceX launches cargo Dragon
Posted: Sat, Mar 18 10:38 AM ET (1438 GMT)
A cargo Dragon spacecraft is on its way to the International Space Station after a launch Tuesday night. A Falcon 9 lifted off at 8:...