Posted: Mon, Jan 20 8:45 PM ET (0145 GMT)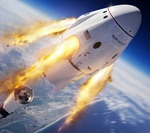 SpaceX successfully carried out an in-flight abort test of its Crew Dragon spacecraft Sunday. A Falcon 9 carrying the spacecraft lifted off from the Kennedy Space Center at 10:30 am EST (1530 GMT) and, 84 seconds later, the spacecraft fired its SuperDraco thrusters to pull away from the rocket, simulating a launch abort. The spacecraft splashed down in the Atlantic about nine minutes after liftoff. NASA and SpaceX said that the test appeared to be "picture perfect," but that data collected during the test will be analyzed in the weeks to come. The test is one of the last major ones for the spacecraft before the Demo-2 crewed test flight to the International Space Station that may take place in the second quarter of this year.
Posted: Mon, Jan 20 8:44 PM ET (0144 GMT)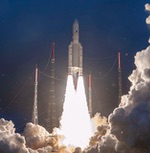 Arianespace started a busy 2020 with the launch Thursday of two communications satellites. An Ariane 5 lifted off from Kourou, French Guiana, at 4:05 pm EST (2105 GMT) and deployed the Eutelsat Konnect and GSAT-30 satellites into geostationary transfer orbits. Eutelsat Konnect is the first satellite to use the Neosat bus intended to reduce the cost of advanced communications satellites. The spacecraft will provide Ka-band services for Europe and Africa. GSAT-30 was built by the Indian space agency ISRO to replace the existing INSAT-4A satellite. The launch is the first of as many as 22 missions Arianespace expects to conduct this year.
Eutelsat loses more than half of capacity on new satellite
Posted: Mon, Jan 20 8:42 PM ET (0142 GMT)
Eutelsat said it's lost more than half the capacity of a satellite launched in October. The company announced Friday that the Eutelsat 5 West...
China launches experimental 5G communications satellite
Posted: Mon, Jan 20 8:41 PM ET (0141 GMT)
China launched an experimental 5G communications satellite Wednesday night. A Kuaizhou-1A solid launch vehicle lifted off from a mobile platform at the Jiuquan Satellite...
China launches small satellites
Posted: Mon, Jan 20 8:40 PM ET (0140 GMT)
China launched several smallsats Tuesday night. A Long March 2D rocket lifted off from the Taiyuan Satellite Launch Center at 9:53 pm EST (0253...