Posted: Sat, Nov 23 10:11 AM ET (1511 GMT)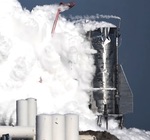 The first prototype of SpaceX Starship vehicle was damaged during testing Wednesday. The Starship Mark 1 tanks were being pressurized for a test at SpaceX's Boca Chica, Texas, site when a bulkhead ruptured, causing a plume of material to erupt from the top of the vehicle and tossing part of it into the air. The company said there were no injuries during the incident, and claimed it was "not a serious setback." Company CEO Elon Musk unveiled the Starship Mark 1 at an event nearly two months ago, saying that the vehicle would fly to 20 kilometers in the next one of two months. In a statement after Wednesday's anomaly, SpaceX said the company had already decided not to fly the Mark 1 vehicle, a decision it had not previously disclosed. SpaceX will instead turn its attention to a Mark 3 version under construction.
Posted: Sat, Nov 23 10:05 AM ET (1505 GMT)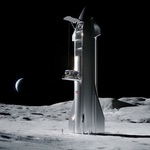 NASA added five companies, including Blue Origin and SpaceX, to its commercial lunar lander program. Those companies, along with Ceres Robotics, Sierra Nevada Corporation and Tyvak Nano-Satellite Systems, received contracts Monday for NASA's Commercial Lunar Payload Services (CLPS) program. The companies join nine others eligible to compete for task orders to deliver NASA payloads to the surface of the moon. NASA emphasized landers with larger payload capacities in this competition, with Blue Origin offering its Blue Moon lander and SpaceX its Starship vehicle, which the company says could land up to 100 metric tons on the moon.
FCC to hold public auction of satellite C-band spectrum
Posted: Sat, Nov 23 10:01 AM ET (1501 GMT)
The chairman of the FCC said Monday he now backs a public auction of satellite C-band spectrum, a decision that could deprive satellite operators...
GAO upholds part of Blue Origin protest of Air Force launch competition
Posted: Sat, Nov 23 9:58 AM ET (1458 GMT)
The Government Accountability Office sided with Blue Origin in the company's protest of an Air Force launch competition. The GAO said it sustained the...
China launches two smallsats
Posted: Sat, Nov 23 9:51 AM ET (1451 GMT)
China launched a pair of small satellites Sunday. The Kuaizhou-1A lifted off from the Jiuquan Satellite Launch Center at 5 am EST (1000 GMT,...