Posted: Thu, May 10 9:14 AM ET (1314 GMT)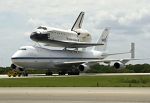 The space shuttle Endeavour returned to the Kennedy Space Center in Florida Wednesday atop a 747, a little over a week after landing in California. The 747 aircraft, with Endeavour attached, landed at KSC just after 2 pm EDT (1800 GMT), completing a two-day transcontinental ferry flight. The 747 and shuttle left Edwards Air Force Base Tuesday and, after a refueling stop at an Air Force base in Oklahoma, spent the night at Little Rock Air Force Base in Arkansas before completing the return flight to KSC on Wednesday. The shuttle landed at Edwards on May 1 after poor weather prevented the orbiter from landing at KSC as preferred. Ferrying the shuttle from California to Florida costs about $1 million and adds about a week to the processing time between flights, although the added time should not be a major issue as Endeavour's next flight, STS-108, is not slated for launch until late November.
Posted: Tue, May 1 12:21 PM ET (1621 GMT)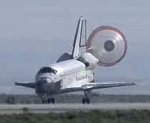 The space shuttle Endeavour successfully landed in California Tuesday after weather forced the shuttle to divert from a planned Florida landing. Endeavour touched down at Edwards Air Force Base, California at 12:10 pm EDT (1610 GMT), completing mission STS-100. The shuttle had been scheduled to land at the Kennedy Space Center but clouds, wind, and rain at the Florida landing site required shuttle managers to wave off two landing attempts there and opt instead for the Edwards landing, which took place under good weather conditions. The landing is the third time in the last five missions that weather has forced the shuttle to divert to Edwards after a string of consecutive landings in Florida lasting four and a half years. The California landing will add a week to the shuttle's processing time, and cost NASA about $1 million, as the shuttle is ferried back to Florida atop a 747.
Poor weather diverts Endeavour to California
Posted: Tue, May 1 8:55 AM ET (1255 GMT)
Bad weather at the Kennedy Space Center has forced NASA to divert the space shuttle Endeavour to California for a landing later Tuesday. A combination...
Endeavour undocks from ISS
Posted: Sun, Apr 29 10:32 PM ET (0232 GMT)
The space shuttle Endeavour undocked from the International Space Station Sunday afternoon, clearing the way for Monday's docking by a Soyuz spacecraft. Endeavour undocked...
ISS computers restored, robotic arm handoff completed
Posted: Sat, Apr 28 10:40 PM ET (0240 GMT)
The crews of the space shuttle Endeavour and the International Space Station were able to complete partial repairs to the station's computer systems and...