Posted: Wed, Mar 21 5:05 AM ET (1005 GMT)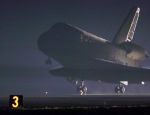 The space shuttle Discovery landed safely at the Kennedy Space Center early Thursday morning, bringing to an end mission STS-102. The shuttle touched down at 2:31 am EST (0731 GMT) on the second of two landing opportunities at KSC. The first landing attempt had been waved off earlier in the evening because of poor weather, which threatened to divert the shuttle to California for the second consecutive mission, however, conditions improved enough during the course of the evening to permit a landing. The three Expedition One crew members, returning to Earth after 141 days in space, are said to be responding well to their return to normal gravity. A press conference featuring most or all of the STS-102 crew is planned for later Wednesday morning.
Posted: Tue, Mar 20 10:15 AM ET (1515 GMT)

Inclement weather forecast for Florida tonight could require NASA to divert the shuttle to a California landing for the second straight mission. The shuttle Discovery is scheduled to land at the Kennedy Space Center, Florida, at 12:56 am EST (0556 GMT), with a second landing opportunity at 2:31 am EST (0731 GMT). However, the current forecast calls for clouds, rain, and winds that would prohibit a landing. There are also two landing opportunities Thursday at Edwards Air Force Base, California: 4:02 am and 5:38 am EST (0902 and 1038 GMT). While NASA shuttle managers would normally have the crew spend an extra day in orbit to allow for a second try at Florida, worsening weather forecast later in the week in California, with only a modest improvement in Florida, could prompt them to bring the shuttle down at Edwards tonight.
Discovery undocks from ISS
Posted: Mon, Mar 19 12:32 AM ET (0532 GMT)
The space shuttle Discovery undocked from the International Space Station Sunday night, hours after the Expedition One crew turned over the station to the new...
Leonardo returned to shuttle after computer concerns addressed
Posted: Sun, Mar 18 9:45 AM ET (1445 GMT)
The Leonardo cargo module was moved from the International Space Station back into the shuttle Discovery's cargo bay early Sunday. The module was undocked...
STS-102 mission extended a day
Posted: Fri, Mar 16 6:42 AM ET (1142 GMT)
NASA announced late Thursday that the space shuttle Discovery will remain docked to the International Space Station an extra day to give crews additional time...