Updated: Wed, Aug 22 2:36 PM ET (1836 GMT)
Originally Posted: Wed, Aug 22 11:38 AM ET (1538 GMT)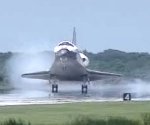 The space shuttle Discovery safely landed in Florida Wednesday afternoon, one orbit later than planned. The shuttle touched down on Runway 15 at the Kennedy Space Center at 2:23 pm EDT (1823 GMT). The landing was originally scheduled for 12:47 pm EDT (1647 GMT), but was postponed when an isolated shower formed near the runway. The shower dissipated in time to permit the second landing attempt. The landing completes the 12-day STS-105 mission, returning to Earth the International Space Station's Expedition Two crew. The next shuttle mission will not take place until late November, when the shuttle Endeavour launches to replace the Expedition Three crew that Discovery brought to the station this month.
Posted: Mon, Aug 20 4:05 PM ET (2005 GMT)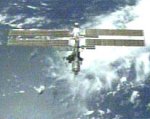 The space shuttle Discovery undocked from the International Space Station Monday morning, preparing to return to Earth with the station's old crew. Discovery undocked from the station at 10:52 am EDT (1452 GMT), circling the station once before moving away. Discovery is returning to Earth with the Expedition Two crew that spent five months at the orbiting outpost; the Expedition Three crew ferried to the station on Discovery are scheduled to spend four months on ISS before being relieved by the next crew. Several hours after undocking the shuttle released Simplesat, a small experimental satellite designed to test the ability to make inexpensive but functional spacecraft using off-the-shelf components. Simplesat will spend five months in orbit taking images using a small telescope before it reenters the atmosphere. Discovery is scheduled to return to Earth with a landing at the Kennedy Space Center, Florida, at 12:46 pm EDT (1646 GMT) Wednesday.
Astronauts finish second spacewalk
Posted: Sun, Aug 19 8:47 AM ET (1247 GMT)
Two shuttle astronauts completed the second of two spacewalks outside the International Space Station Saturday. Astronauts Pat Forrester and Dan Berry worked outside ISS for...
New ISS commander takes over, second spacewalk set
Posted: Sat, Aug 18 12:37 PM ET (1637 GMT)
Astronaut Frank Culbertson officially took command of the International Space Station on Friday during a change-of-command ceremony on the station. Expedition Two commander...
Astronauts complete spacewalk
Posted: Fri, Aug 17 10:06 AM ET (1406 GMT)
Two astronauts conducted a six-hour spacewalk outside the International Space Station Thursday, installing equipment and experiments to the exterior of the orbiting facility. Astronauts...