Posted: Mon, Dec 17 4:45 PM ET (2145 GMT)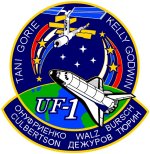 The space shuttle Endeavour landed at the Kennedy Space Center Monday afternoon to bring the STS-108 mission to a close. The shuttle landed at 12:55 pm EST (1755 GMT) at KSC's runway 15, ending the 12-day mission to the International Space Station. Endeavour returned with the ISS's Expedition Three crew of Frank Culbertson, Vladimir Dezhurov and Mikhail Turin, who spent four months in space. The flight was the sixth and final shuttle mission of 2001. The next shuttle mission, the flight of Columbia on STS-109, a Hubble Space Telescope servicing mission, is currently scheduled for launch on February 14.
Posted: Mon, Dec 17 7:58 AM ET (1258 GMT)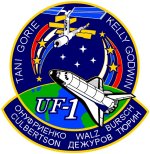 The space shuttle Endeavour deployed a small satellite Sunday while wrapping up its mission in preparation for landing on Monday. On Sunday morning the shuttle released the Starshine 2 satellite into low Earth orbit. The satellite, coated with hundreds of mirrors polished by students, will be tracked by more than 30,000 students in 26 countries over the next eight months, before the spacecraft reenters. The STS-108 crew also spent Sunday packing up to prepare for the shuttle's landing, scheduled for 12:55 pm EST (1755 GMT) at the Kennedy Space Center (KSC) in Florida. Weather conditions, earlier forecast to be poor, should be good enough to permit a landing. A second landing opportunity is available at 2:32 pm EST (1932 GMT), while the alternate landing site at Edwards Air Force Base, California will not be activated Monday.
Shuttle undocks from station
Posted: Sun, Dec 16 11:43 AM ET (1643 GMT)
The space shuttle Endeavour undocked from the International Space Station Saturday as it prepared to return to Earth. The shuttle undocked at 12:28 pm...
Shuttle prepares to undock from station
Posted: Sat, Dec 15 9:35 AM ET (1435 GMT)
The crews of the space shuttle Endeavour and the International Space Station completed preparations Friday for the shuttle's departure on Saturday. Astronauts finished packing...
Shuttle glitch could shorten mission
Posted: Fri, Dec 14 9:17 AM ET (1417 GMT)
A failure of a navigation unit on board the shuttle Endeavour has brought the mission close to an early end, NASA officials said Thursday. One...