Posted: Sat, Mar 16 7:31 PM ET (0031 GMT)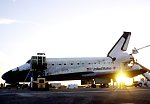 Shuttle technicians have pinpointed the blockage in a coolant line in the shuttle Columbia, SPACE.com reported Friday. X-ray and ultrasound equipment located the blockage in the Freon coolant line in the first place they looked, in the rear engine compartment near some electronics boxes. The clogged line was discovered shortly after Columbia launched March 1 on the STS-109 Hubble repair mission. NASA considered bringing the shuttle down early, based on a conservative reading of shuttle flight rules, but decided to leave the shuttle in orbit because a second coolant line appeared to be working fine. The nature of the material causing the blockage, and how it will be removed, is still unknown. Columbia is scheduled to fly again in July on mission STS-107, but engineers don't know yet of the work needed to clear the coolant line will delay the flight.
Posted: Tue, Mar 12 6:45 AM ET (1145 GMT)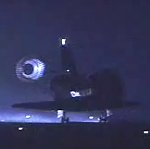 The space shuttle Columbia safely landed at the Kennedy Space Center Tuesday morning. Columbia touched down at 4:32 am EST (0932 GMT) Tuesday, completing a 10-day, 22-hour mission to refurbish the Hubble Space Telescope. The mission was the first shuttle flight of 2002 and the first for Columbia since July 1999. Ground controllers are still checking out Hubble, and estimate it will take several weeks to calibrate its new Advanced Camera for Surveys and see if a new cooling system will allow scientists to use the NICMOS infrared instrument again. The next shuttle flight, STS-110, is scheduled for launch on April 4. The shuttle Atlantis and its seven-person crew will install the first segment of the International Space Station's truss on a nine-day flight.
Shuttle releases Hubble
Posted: Sat, Mar 9 9:29 AM ET (1429 GMT)
The space shuttle Columbia released the Hubble Space Telescope back into orbit Saturday morning, completing a successful upgrade to the orbiting observatory. The shuttle's...
Shuttle astronauts wrap up final Hubble spacewalk
Posted: Fri, Mar 8 4:52 PM ET (2152 GMT)
Astronauts successfully completed their work on the Hubble Space Telescope Friday morning with a final spacewalk to install a new cooling unit for an instrument....
Astronauts install new Hubble camera
Posted: Thu, Mar 7 12:52 PM ET (1752 GMT)
Shuttle astronauts performed the fourth Hubble Space Telescope repair spacewalk Thursday morning, replacing the last of the observatory's original instruments with a new camera....