Posted: Fri, Apr 19 12:54 PM ET (1654 GMT)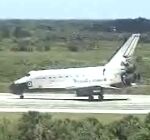 The space shuttle Atlantis landed safely at the Kennedy Space Center Friday afternoon to conclude the STS-110 shuttle mission. Atlantis touched down at 12:27 pm EDT (1627 GMT) on Runway 33 at KSC. The total flight time of the mission, from liftoff to wheels stop, was 10 days, 19 hours, 43 minutes, and 48 seconds. The landing topped off a successful mission to the International Space Station where the seven-person crew installed the first section of the station's truss. Four spacewalks took place during the mission to complete the installation of the S0 truss segment and perform various other tasks outside the station. The next shuttle mission, STS-111, is scheduled for launch on May 30. The crew of the shuttle Endeavour will deliver supplies to the station, install a Mobile Base Station on the Mobile Transporter railcar on the S0 truss, and replace a faulty wrist joint on the Canadarm2 robot arm.
Posted: Wed, Apr 17 7:47 PM ET (2347 GMT)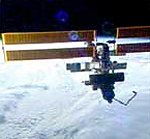 The space shuttle Atlantis undocked from the International Space Station Wednesday afternoon after completing its mission to install a truss on the orbiting facility. Atlantis undocked from the station at 2:31 pm EDT (1831 GMT), a week after arriving at the station. During its stay at the station the crew of STS-110 added to the station the S0 truss segment, the first portion of the station's backbone, completing the installation during a series of four spacewalks. Atlantis is scheduled to land back at the Kennedy Space Center, Florida at 12:37 pm EDT (1637 GMT) to conclude its 11-day mission.
Last STS-110 EVA completed, shuttle ready to undock
Posted: Wed, Apr 17 9:11 AM ET (1311 GMT)
Two astronauts wrapped up the fourth and final spacewalk of the STS-110 mission Tuesday, the last major task before the shuttle Atlantis undocks from...
Railcar completes first tests on ISS
Posted: Tue, Apr 16 8:01 AM ET (1201 GMT)
The crew of the International Space Station and STS-110 battled glitches during the first test of the Mobile Transporter on the S0 truss segment...
Third STS-110 spacewalk a success
Posted: Mon, Apr 15 8:05 AM ET (1205 GMT)
Two astronauts completed the third spacewalk of the STS-110 mission on Sunday, clearing the way for a test of the station's new Mobile...