Posted: Mon, Jul 1 6:58 AM ET (1058 GMT)
The space shuttle Endeavour returned to the Kennedy Space Center on Saturday after a ferry flight from California. The 747 aircraft carrying Endeavour landed Saturday morning; the aircraft took off from Edwards, where the shuttle landed on June 19, on Friday, with an overnight stop at an Air Force base in Missouri. The details of the ferry flight, including its route and schedule, were not disclosed by NASA as a security precaution.
The Ukrainian space agency has requested a major funding increase, Aerospace Daily reported Friday. The National Space Agency, which currently receives about $15 million a year, is asking for $300 million over five years. The increased funding would be used for ISS experiments, a new remote sensing satellite program, and upgraded Tsiklon, Dnepr, and Zenit boosters.
The fate of a moon rock from the Apollo 17 mission is in the hands of a federal judge in a dispute over its ownership. The rock was given as a gift to the government of Honduras, but made its way over the years into a hand of a Florida collector, Alan Rosen. After Roden verified the identity of the rock, he attempted to sell it, only to have it seized by federal agents. The rock, weighing just over one gram, is valued at up to $5 million.
Posted: Wed, Jun 19 2:17 PM ET (1817 GMT)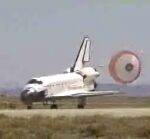 The space shuttle Endeavour safely landed in California after weather conditions prevented a landing at the Kennedy Space Center in Florida. Endeavour touched down on Runway 22 at Edwards Air Force Base, California at 1:58 pm EDT (1758 GMT), completing the STS-111 mission to ISS. The unofficial elapsed time of the mission, from launch to wheels stop, was 13 days, 20 hours 35 minutes, and 56 seconds. NASA made several attempts to land Endeavour in Florida to avoid delays transporting the orbiter back from California, but weather conditions prevented landing attempts since Monday. The effect of the California landing on Endeavour's next mission STS-113, is unknown: the mission is scheduled for an early October launch but could slip until November because of the California landing and a Soyuz taxi mission scheduled for launch in late October. NASA also wanted a Florida landing so that the Expedition Four crew, returning to Earth after 196 days on the station, could immediately be reunited with their families there.
Endeavour diverted to California
Posted: Wed, Jun 19 11:27 AM ET (1527 GMT)
Poor weather for the third consecutive day in Florida has led NASA to try a landing of the shuttle Endeavour in California this afternoon instead....
Shuttle to remain in orbit another day
Posted: Tue, Jun 18 11:26 AM ET (1526 GMT)
Shuttle managers decided Tuesday morning to keep the shuttle Endeavour in orbit one more day because of poor weather conditions in Florida. NASA had hoped...
Weather delays shuttle landing
Posted: Mon, Jun 17 12:26 PM ET (1626 GMT)
NASA postponed the landing of the shuttle Endeavour by 24 hours on Monday because of poor weather conditions in Florida. Endeavour had been scheduled to...