Posted: Thu, Aug 18 7:48 AM ET (1148 GMT)

Several members of a task force charged with evaluating NASA's effort to return the space shuttle flight believe the agency has yet to solve cultural problems that were at the root of the Columbia accident two and a half years ago. In an appendix to the final report of the Stafford-Covey Return to Flight Task Force, seven of the group's 26 members concluded that organizational and cultural issues that had been previously identified as contributing to the Columbia accident still existed within NASA. The minority group, whose members included former astronaut Susan Helms and former CBO director Dan Crippen, said the shuttle program still suffered from a lack of ""focused, consistent leadership and management". The members cited a lack of program management skills and "rigor in execution" as signs of a problem. The minority report, which task group co-chairs Thomas Stafford and Richard Covey declined to comment on, was included at the behest of NASA administrator Michael Griffin.
Posted: Tue, Aug 9 9:36 AM ET (1336 GMT)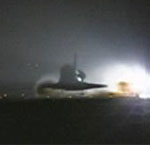 The space shuttle Discovery landed successfully in California early Tuesday after weather prevented two landing attempts in Florida. Discovery touched down on Runway 22 at Edwards Air Force Base in California at 8:11 am EDT (1211 GMT). NASA diverted the shuttle to California after waving off two landing attempts earlier in the morning at Kennedy Space Center in Florida because of unsettled weather near the center. The safe landing brought the STS-114 mission, the first shuttle mission since the Columbia accident two and a half years ago, to a successful end. Landing in California will add several days to the preparation time foe Discovery, which must be ready to fly any potential rescue mission when Atlantis launches on STS-121. That launch is scheduled for no earlier than September 22, depending on when foam shedding problems that took place on Discovery's launch are corrected.
Weather delays shuttle landing
Posted: Mon, Aug 8 7:56 AM ET (1156 GMT)
...
Shuttle undocks from ISS
Posted: Sat, Aug 6 10:02 AM ET (1402 GMT)
The space shuttle Discovery undocked from the International Space Station early Saturday in preparation for its return to Earth Monday. Discovery undocked from the station'...
NASA nixes fourth spacewalk
Posted: Fri, Aug 5 6:32 AM ET (1032 GMT)
Shuttle officials decided Thursday that the crew of the space shuttle Discovery did not need to conduct an additional EVA to repair a damaged thermal...