Posted: Sat, Nov 3, 2001, 11:42 AM ET (1642 GMT)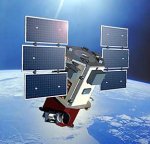 The QuickBird commercial remote sensing satellite launched last month will start taking images in mid-November, SPACE.com reported Friday. Executives with DigitalGlobe, operator of QuickBird, said that the spacecraft is performing well in orbit during its initial shakeout. Engineers will spend about four months calibrating the spacecraft's high-resolution camera once imaging begins, and the company plans to gradually roll out commercial operations through the first half of 2002.
A Ukrainian company will build and launch a satellite for the government of Egypt, SPACE.com reported Thursday. KB Yuzhnoe and a set of Ukrainian subcontractors will build the remote sensing spacecraft, to be launched on a Dnepr-1 booster. Terms of the contract were not announced.
ATK Thiokol successfully tested an upgraded version of the shuttle's solid rocket booster (SRB) this week. A 123.1-second static firing test in Utah tested a number of SRB modifications, including a new O-ring design and several nozzle improvements, according to AviationNow.
Several members of the NASA astronaut corps announced their retirement this week. Among those retiring were veterans Tom Jones, Jeff Wisoff, Tammy Jernigan, Mark Lee, and French astronaut Jean-Loup Chrétien. Wisoff and Jernigan are taking positions at the Lawrence Livermore National Laboratory; Jones will pursue a career as a writer and consultant.