Posted: Tue, Dec 11, 2001, 10:02 AM ET (1502 GMT)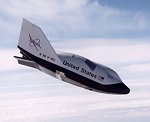 Jupiter's moon Io does not generate a magnetic field of its own but does interact with Jupiter's magnetic field in a number of ways, scientists said Monday. Using data from several close flybys of Io by the Galileo spacecraft, scientists failed to detect any magnetic field generated by Io itself. However, they did find electrical currents along magnetic field lines from Jupiter in the vicinity of Io that may be related to active plumes on the volcanic moon.
NASA has appointed former astronaut Frederick Gregory as acting associate administrator for the Office of Space Flight, the agency announced Monday. Gregory, who had served as associate administrator for the Office of Safety and Mission Assurance, will replace Joseph Rothenberg, who is retiring at the end of this week
The eighth test flight of the X-38, a prototype of a proposed crew return vehicle (CRV) for the International Space Station, has been scheduled for December 13. The vehicle will be dropped from a B-52 above Edwards Air Force Base and make an unpowered landing while being controlled by an astronaut, Ken Hamm, on the ground. The test will take place even as NASA plans to delay any development of a CRV for the space station because of budget overruns.