Posted: Tue, Feb 19, 2002, 8:54 AM ET (1354 GMT)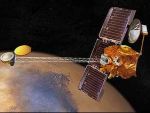 NASA's Mars Odyssey spacecraft is ready to begin its science mission this week, the AP reported Monday. The spacecraft's instruments will begin searches for hydrogen, a tracer for water, beneath the Martian surface while studying the composition of the surface. An instrument designed to study the radiation environment around the planet malfunctioned during the journey to Mars and is still not operational.
Military requirements for a future reusable launch vehicle (RLV) could benefit commercial RLVs, according to a Spacelift Washington report published by SpaceRef. The military is looking for an RLV capable of rapid turnaround times and high flight rates, which would benefit commercial applications such as tourist flights, even though NASA currently has no such requirements for its flight needs. RLV mission requirements are currently being explored by a 120-day joint NASA-Air Force study.
NASA's mission control management system may soon find a home in the auto industry, the Financial Times reported Monday. NASA and consulting firm AT Kearney are talking with several automakers on ways for the companies to adopt NASA's project management techniques. Companies would set up control rooms similar to NASA's shuttle and station mission control centers where managers and engineers would monitor auto production and find ways to cut costs.