Posted: Sun, Jul 9 6:47 AM ET (1147 GMT)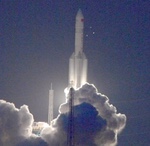 The second launch of China's Long March 5 heavy-lift rocket ended in failure July 2. The rocket lifted off from the Wenchang Satellite Launch Center on the island of Hainan at 7:23 am EDT (1123 GMT) and initially appeared to go as planned. About 45 minutes after liftoff, though, Chinese media reported that the launch had failed, but did not provide additional information. Some observers of in-flight video noticed a plume of gas from one of the engines in the core stage of the rocket more than five minutes after liftoff, suggesting a malfunction of the engine. The rocket's payload was Shijian-18, a large experimental communications satellite. The rocket's next flight was planned for November, carrying the Chang'e-5 lunar sample return mission.
Posted: Sun, May 21 9:00 AM ET (1400 GMT)
China Great Wall and Palapa Satelit Nusantara Sejahtera, an Indonesian joint venture, signed a contract May 17 in Jakarta for the Palapa-N1 spacecraft. Palapa-N1 will carry a Ku-band payload and replace Palapa-D, whose orbital lifetime was limited when the Long March rocket that launched it in 2009 underperformed. The companies also announced a non-binding agreement for a Ka-band satellite, PSN-7.