Posted: Sun, Jan 14 4:44 PM ET (2244 GMT)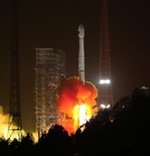 China launched a pair of Beidou navigation satellites Thursday. The Long March 3B rocket lifted off from the Xichang Satellite Launch Center at 6:18 pm EST (2318 GMT) and placed the two satellites into medium Earth orbits. The satellites are part of an effort by China to complete a constellation of satellites providing navigation services globally by 2020.
Posted: Sun, Jan 14 4:40 PM ET (2240 GMT)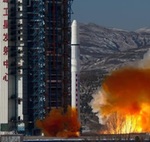 A Long March rocket launched two commercial imaging satellites late Monday. The Long March 2D rocket lifted off from the Taiyuan Satellite Launch Center at 10:24 pm EST (0324 GMT Tuesday) and placed two SuperView-1 imaging satellites into orbit. The satellites, operated by Chinese company Beijing Space View Technology Company Ltd., join two others launched in late 2016 to provide high-resolution Earth imagery. The launch is the first of as many as 40 Chinese missions slated to fly in 2018.