Posted: Sun, Dec 16 11:33 AM ET (1733 GMT)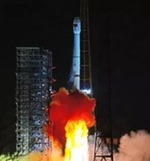 China launched its latest mission to the moon December 7. The Long March 3B rocket carrying the Chang'e-4 spacecraft lifted off at 1:23 pm EST Friday (1828 GMT Friday, 2:23 am Beijing time December 8) from the Xichang Satellite Launch Center, placing the spacecraft on a trajectory to the moon. The spacecraft will enter orbit around the moon with a landing on the far side of the moon expected to take place in early January. If successful, it will be China's second lunar lander and the first mission by any country to land on the lunar farside.
Posted: Sun, Dec 16 11:32 AM ET (1732 GMT)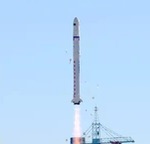 A Chinese rocket launched several small satellites December 7. The Long March 2D rocket lifted off from the Jiuquan Satellite Launch Center at 0412 GMT (12:12 pm Beijing time), a launch announced with little advance notice. The payload on the launch includes the SaudiSAT-5A and B satellites, Earth observation and technology demonstration spacecraft developed by Saudi Arabia's King Abdulaziz City for Science & Technology. Several other Chinese smallsats are also believed to be on the launch.