Posted: Thu, Dec 11 8:34 AM ET (1334 GMT)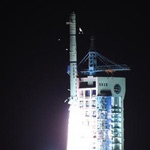 China launched Thursday a remote sensing satellite what Western observers believe to be a trio of naval reconnaissance satellites. The Long March 4C rocket lifted off from the Jiuquan Satellite Launch Center at 2:33 pm EST Wednesday (1933 GMT Wednesday, 3:33 am Beijing time Thursday) and placed the Yaogan-25 satellite into orbit, according to state media. Those reports described Yaogan-25 as a single satellite intended for scientific experiments and civil applications. Western observers believe Yaogan-25 is instead three formation-flying satellites used for naval reconnaissance.
Posted: Tue, Dec 9 7:39 AM ET (1239 GMT)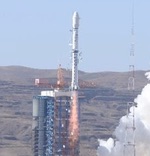 A Long March rocket launched a Chinese-Brazilian remote sensing satellite on Sunday. The Long March 4B rocket lifted off from the Taiyuan Satellite Launch Centre at 10:26 pm EST Saturday (0326 GMT, 11:26 am Beijing time Sunday) and placed the Chinese-Brazilian Earth Resource Satellite 4 (CBERS-4) satellites into a sun-synchronous orbit. The satellite is a joint project of Brazil and China to develop a series of satellites to provide earth imagery for natural resources and other applications. The launch comes a year after another Long March rocket failed to place the CBERS-3 satellite into orbit. The launch was also the 200th in the history of the Long March family of rockets, stretching back to China's first satellite launch in 1970.