Posted: Mon, Dec 2 6:01 AM ET (1101 GMT)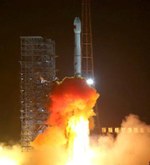 A Long March rocket lifted off early Monday and placed China's first lunar lander mission on a trajectory towards the Moon. The Long March 3B rocket lifted off from the Xichang Satellite Launch Center at 12:30 pm EST Sunday (1730 GMT Sunday, 1:30 am Beijing time Monday) carrying the Chang'e-3 spacecraft. The rocket placed the spacecraft on a translunar trajectory, arriving at the Moon in four days. Chang'e-3 will go into orbit around the Moon before landing in the Sinus Iridum region on December 14. Chang'e-3 is China first lunar lander mission, and the Chang'e-1 and -2 lunar orbiters, and also carries a rover named Yutu, or jade rabbit.
Posted: Wed, Nov 27 5:59 AM ET (1059 GMT)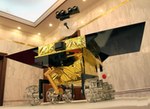 Chinese officials said they are set to launch that country's first lunar lander and rover, perhaps as soon as this weekend. Officials announced on Tuesday that the rover that the Chang'e-3 spacecraft will carry to the Moon will be called "Yutu", or Jade Rabbit, the winner of an online poll. Chang'e-3 is expected to land in the Sinus Iridum region of the Moon in mid-December and deploy the Yutu rover. China has not given a launch date for the mission beyond early December, but some reports indicate that the mission could launch as soon as Sunday, December 1. The mission would be China's third to the Moon, after the Chang'e-1 and -2 orbiters launched in 2007 and 2010, respectively.