Posted: Tue, Mar 4 5:13 AM ET (1013 GMT)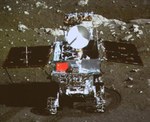 Chinese officials said the malfunction of a "control circuit" on its first lunar rover, Yutu, is keeping the rover from moving. The failed circuit in the rover's "driving unit" has kept the spacecraft from moving, and also prevents it from lowering its mast and folding in its solar panels to conserve heat during the two-week lunar night. That failure took place prior to going into hibernation in late January, and the rover was late in resuming operations in early February, leading to premature reports that the rover had failed entirely. The rover is again in hibernation and project officials say they are hopeful it will awaken again later this month. The rover's scientific instruments have been working normally despite the driving unit malfunction, but the rover's inability to move limits the usefulness of some of those instruments.
Posted: Sun, Feb 23 9:16 AM ET (1416 GMT)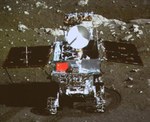 China's Yutu lunar rover entered its third two-week hibernation period Saturday with technical problems that earlier appeared to jeopardize the mission unresolved, official media reported. The rover entered hibernation as lunar night began Saturday still suffering from unspecified "mechanical control issues that might cripple the vehicle," according to the Xinhua news agency. Those issues have not affected the rover's instruments, including radar, panoramic camera, and infrared imager, which are all working. However, the problems have apparently prevented the rover from moving, as the report indicated Yutu was limited to "fixed point observations" during the latest lunar day. Officials had reported the technical problems with the rover prior to going into hibernation last month, and problems establishing contact with the rover after that hibernation period ended two weeks ago led to reports that the rover had died. Yutu arrived on the Moon in December with the Chang'e-3 lander; that spacecraft also went into hibernation this weekend after carrying out observations with its instruments.