Posted: Fri, Jul 31 2:20 PM ET (1820 GMT)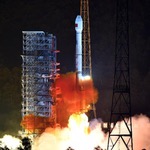 China launched a pair of Beidou navigation satellites July 25. The Long March 3B rocket lifted off from the Xichang Satellite Launch Center at 8:29 am EDT (1229 GMT, 8:29 pm Beijing time) July 25 and placed the two satellites into medium Earth orbit. The satellites are part of the third phase of the country's navigation system, expanding its coverage from its current regional scope to a global one.
Posted: Sat, Jun 27 9:54 AM ET (1354 GMT)
A Long March rocket placed what Chinese officials said was a civil remote sensing satellite into orbit Friday. The Long March 4B rocket lifted off from the Taiyuan Satellite Launch Center at 2:22 am EDT (0622 GMT, 2:22 pm Beijing time) Friday and placed the Gaofen-8 satellite into a sun-synchronous orbit. The satellite is said to provide high-resolution images for civilian applications, although earlier reports about the Gaofen system said it would consist of only seven satellites. The launch was not announced in advance by the Chinese government.