Posted: Fri, Oct 2 12:08 PM ET (1608 GMT)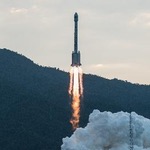 A Long March rocket placed the 20th in a series of Chinese navigation satellites into orbit Wednesday. The Long March 3B lifted off at 7:13 pm EDT Tuesday (2313 GMT Tuesday, 7:13 am Beijing time Wednesday) and placed the Beidou satellite into orbit. The satellite is part of an effort by China to develop its own satellite navigation system comparable to the GPS network in the US. China expects to provide global coverage through Beidou by 2020.
Posted: Sat, Sep 26 9:38 AM ET (1338 GMT)
China made the first launch of its Long March 11 small launch vehicle on Friday, placing several small satellites into orbit. The Long March 11 lifted off from the Jiuquan Satellite Launch Center at 9:41 pm EDT Thursday (0141 GMT, 9:41 am Beijing time Friday) and placed four microsatellites into orbit, according to official media. The solid-fueled Long March 11 is intended to perform launches of satellites weighing up to a few hundred kilograms into low Earth orbit on relatively short notice. China had previously developed a similar rocket, the Kaituozhe-1, but it made only two launches, one unsuccessful, in the early 2000s.